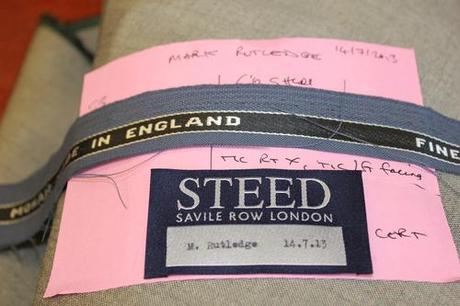 I got to see Edwin and Matthew from Steed Tailors this Sunday, as they stopped by San Francisco for part of their US tour. While we were flipping through fabric books, I asked Edwin if he cuts jackets differently depending on his client's body type. There's been so much written about how certain silhouettes are better for certain builds (even down to the shape and width of the lapels). I was curious to hear Edwin's view on this, since he's actually the one cutting and fitting bespoke suits for customers.
Edwin said he mostly works with customers to achieve what they want. One of his clients likes a much fuller chest than what he customarily cuts, so he provides that. Others might want something less drape-y. Some of his bodybuilding customers have big drops (meaning there's a large difference between the shoulder width and waist size), so on their jackets, he has to put in two darts instead of his usual one. (For me, a skinny man with narrow shoulders and an expanding waistline, I imagine my jackets have a negative number of darts, but I haven't checked). 
Other than that, however, he said he mostly goes by eye. When he fits someone, he and the client decide then what needs to be changed. Much like a tweed I recently brought back, which is cut like all of my other coats, but since it's made from a very spongy Shetland, it looks bulky. Edwin and I agreed that it would look better with the shoulders and chest reigned in a little bit, so that they sit closer to the body, and that the length could be shortened. Nothing formulaic; just something we observed when I tried on the jacket.
Which makes sense, really. Even for a highly trained tailor such as Edwin, at the end of the day, he goes by his eye. Rules about fit or style are perhaps less rigid than we think, and our ideas about what a shorter or heavier man should wear, as compared to a skinnier or taller man, are probably more about Platonic ideals than reality. When it comes down to it, a garment should make you look good, and you can judge that by looking in the mirror. 
In any case, Edwin and Matthew are touring the US this month. They're in Nashville today, and then soon to be in Washington DC, New York City, and then Boston. You can see their travel itinerary at their website and some of their work at Voxsartoria (who is one of their clients).
(Photos via Steed)