Baghdad. Karachi. Lebanon. Damascus. These are the places on maps our eyes rove to when thinking of terror, jihad, and evil. We see a great amount of hate emanating from these places where satan has his throne. (Revelation 2:13; Ezekiel 28:12).
And just when we got used to this place or that place being the seat of terror, BLAM! Chechnya!
The two brothers who executed the terrorist bombings at the Boston marathon were from Chechnya. They were Muslim and subscribed to a jihadi point of view.
The Boston police Commissioner said
, "We believe this man to be a terrorist," said Boston Police Commissioner Ed Davis. "We believe this to be a man who's come here to kill people."
I had to look on a map to see where Chechnya is.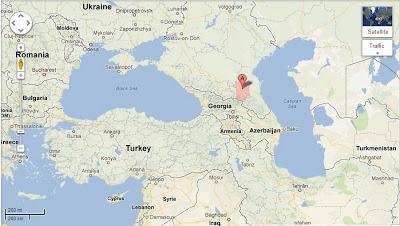 Aha. This explains a lot. It is part of ground zero of where the Gog Magog nations will combine to attack Israel in the Gog Magog Ezekiel 38 war.
Russia's Caucasus: breeding ground for terror
"Militants from Chechnya and other restive regions in Russia's volatile North Caucasus have targeted Moscow and other areas with bombings and hostage-takings, but the allegations of involvement in the Boston Marathon explosions would mark the first time they had conducted a terror attack in the West. The conflict in Chechnya began in 1994 as a separatist war, but quickly morphed into an Islamic insurgency whose adepts vow to carve out an independent Islamic state in the Caucasus."
"The word of the Lord came to me; Son of man, set your face against Gog, of the land of Magog, the chief prince of Meshech and Tubal; prophesy against him and say: 'This is what the Sovereign Lord says: I am against you, O Gog, chief prince of Meshech and Tubal. I will turn you around, put hooks in your jaws and bring you out with your whole army - your horsemen fully armed, and a great horde with large and small shields, all of them brandishing their swords. Persia, Cush and Put will be with them, all with shields and helmets, also Gomer with all its troops, and Beth Togarmah from the far north with all its troops - the many nations with you.' (Ezekiel 38:1-6).
These Magog coalition nations are
the nations of today
-
Magog
- there are over 130 historical references tying Magog to the ancient Scythians. In Colossians 3:11 Paul mentioned the Scythians. The Strong's concordance identifies a Scythian as an inhabitant of Scythia or modern day
Russia
. The Great Wall of
China
was known as the "Ramparts of Magog" in ancient times and was built to protect China from Magog. Magog was a son of Japeth and inhabited central Asia. His children, the Scythians, are the ancestors of today's Russian people.
Meshech and Tubal
- These two were brothers of Magog and are linked to the same general area, but more likely with the Turkic people. Josephus associated Meshech with Cappodocia, home of the ancient Hittite Empire in Eastern Turkey.
Persia
– Iran
Cush and Put
– Ethiopia, Libya and the north part of the continent; Algeria, Tunisia, Morocco, Mauritania, etc.
Gomer
- Eastern Europe of today.
Beth Togarmah
- Armenians of today call themselves the House of Togarmah. The Turks (but not the Kurds, who are the ancient Medes of Media-Persia fame) are also included, and they're the ones Ezekiel had in view.
Sheba and Dedan
- commentaries none-the-less identify these two as probably representing the nations of the Arabian Peninsula, notably Saudi Arabia. The ancient capital of Saudi Arabia is still called Dedan on many maps today.
Tarshish
– No one is sure. (go to link to see full explanation with scriptures)
Now look at the map again. Chechnya is smack dab in the middle of the exact geographic region which will combine in an unholy alliance against God, striking His nation Israel in the last days.
One thing that the surprise Chechnyan connection and the surprise US terror act tells us, is that satan is alive and well and busy, even in ways and in places we are not aware. If there is a good to come of this act, it is to unite us in prayer, to take a stand for Jesus, and to remember to put on our armor and be on guard even more vigilantly-
spiritually
.
No matter how dark the day, the Light is coming. He will prevail. He already has prevailed. In this way, all things
are
working perfectly to work out His plan. In the glory of the lilies, Christ was born across the sea, with a glory in His bosom that transfigures you and me. His truth marches on! His day is coming!