"This post is sponsored by Green Sisterhood but the opinion is my own."
 I've used sunscreen for years to protect my skin; in fact, it's a vital part of my anti-aging regimen. However, I've always had a hard time finding a broad spectrum safe sunscreen with ingredients that won't irritate my skin. That's where Goddess Garden Organics Sunscreen comes in.
When they contacted me to do a review of their product I was intrigued for several reasons. Their product does NOT contain any "ikky" ingredients, it's biodegradable, non-nano and it comes in recyclable packaging. Not to mention, they sent me a bunch of product samples to try and they are giving all Savvy Brown readers a chance to try a FREE bottle of sunscreen!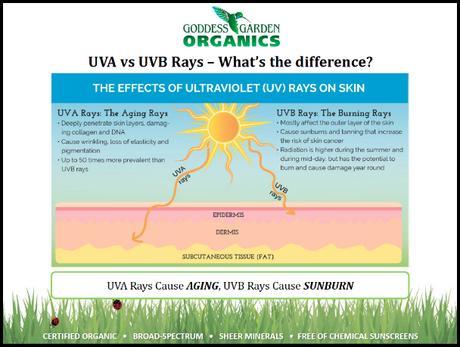 What is Broad Spectrum Sunscreen?
You've heard of UV rays right? It's natural form of radiation that emanates from the sun. However, you might not realize that UV rays are made up of two types of radiation, resulting in UVA or UVB rays. No matter what your skin type or complexion, you can be affected by both UVA and UVB rays. Goddess Garden Organics only sells broad-spectrum sunscreen, which means that it protects against both types of UV raditation.

Aren't Sunscreens Full of chemicals?
Almost every drugstore brand of sunscreen is full of chemicals. Even the ones for babies! Since your skin is the largest organ on your body, you are basically ingesting those chemicals. That's what makes Goddess Garden different than synthetic store brands, it's a safe sunscreen.
For instance, they refuse to use chemicals like Oxybenzone. I have listed oxybenzone in my 12 Ingredients That You Should Avoid and with good reason. Oxybenzone is basically a carcinogen and xenoestrogen that can lead to low sperm count, early puberty in girls, fibroids, and a host of other health concerns. Not only is it harmful to humans, but oxybenzone is known to be damaging to the delicate eco-system of reefs.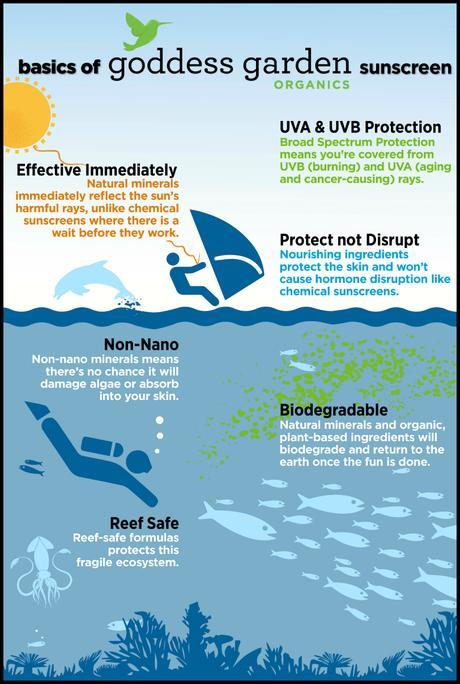 What you want to use instead is a mineral-based safe sunscreen. Not only are mineral sunscreens non-absorbent, but they activate immediately, acting as a reflective coating on the skin that UV rays can bounce off of.
With most synthetic sunscreens, you have to wait 20 minutes for the chemicals to be absorbed into the skin before the ingredients become effective. (You try taking kids to the beach and telling them they have to wait in the car for 20 minutes!)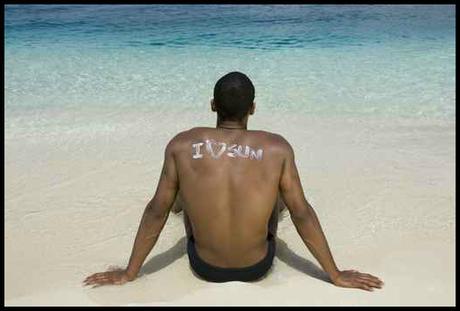 I have dark skin, I don't need to wear sunscreen right?
Wrong. The sun does not care what color you are. I don't know about you, but if I'm not paying attention and don't reapply sunscreen, (especially when I'm near water) I will burn BADLY. People of color (POC) are just as susceptible to sunburn and skin cancer as everyone else.
In fact, more people of African and HIspanic descent die of malignant melanoma in this country than other races. (And those numbers are rising). Why? Because people are under the false assumption that POC can't get skin cancer, so we ignore "the ugly duckling" thinking that it is  just a mole or a bruise.
By the time we go to the doctor and have a biopsy, the melanoma is in its advanced stages. In order to be safe, POC need to wear a broad spectrum sunscreen just like everyone else. (Don't worry, you'll still get tan at the beach!) Also, sunscreen is a vital part of my anti-aging regimen and I wouldn't be able to stave off wrinkles without it!
Goddess Garden Sunny Body Natural Sunscreen Continuous SPF 30 Spray ($17.50/6oz.)
Ingredients: Titanium Dioxide 6.4%, Zinc Oxide 6.0% Inactive Ingredients: Aloe Vera, Butyrospermum Parkii (Shea Butter), Caprylic/Capric Triglyceride (Coconut Oil), Glycerin, Glyceryl Caprylate, Glyceryl Stearate, Glyceryl Stearate Citrate, Glyceryl Undecylenate, Glycine Soja (Soybean) Oil, Helianthus Annus (Sunflower) Oil, Iron Oxide, Lavendula Augustifolia (Lavender) Oil, Polyhydroxystearic Acid, Radish Root Ferment Filtrate, Stearic Acid, Tocopherol (Vitamin E), Xanthan Gum Certified Organic
Okay, now that you know all the facts, let's get down to my personal opinion of this line of products. I tried the Garden Organics Everyday Sunscreen SPF 30 for about a week in two ways: on my arms and neck when I went out to garden and on my face as a replacement for my usual facial sunscreen.
I was pleasantly surprised. Most of the "natural" sunscreens I have used didn't absorb well and left me looking like I just got dipped in flour. Not this stuff! I was shocked at how well (and quickly) Goddess Garden absorbed into my skin. The spray is great, because you can cover a large area quickly (a bonus if you have squirmy kids!).

After I moisturized I sprayed a bit on my hand to test it (not directly onto my face), and then rubbed it in. When I was happy with the result I moved on to my face, concentrating on my cheeks, nose and forehead. Again, it distributed evenly, and didn't affect the color of my foundation at all!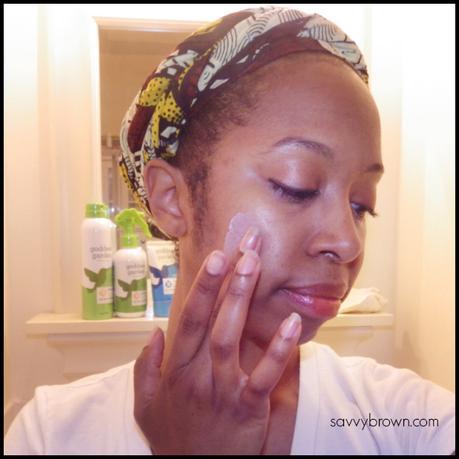 Overall, I really like this product. It has great ingredients and comes in recyclable packaging. My only concern was the price. Luckily, Goddess Garden also makes the same formulation in a 3oz tube for $11.99.
And for a limited time, if you enter SunSafeGoddess at checkout you'll get a 20% discount!
RATING: 4 Savvy!* – Great product, great ingredients, multi-use, wish it was a bit cheaper
*Savvy Ratings: 5=Savvy 4=Smart 3=Suitable 2=Satisfactory 1=Stupid
---
Resources:
Cancer.org
BlackDoctor.org
Environmental Working Group
SkinCancer.org
Washington Post