By Susan Duclos
A mother of a student at the Alcovy High School in Georgia, wants artwork with the words "God is Dead," removed from the school, saying that if religion is not allowed in schools, neither should that be.
Newton County School System claims the words are from a quote in Arthur Miller's play "The Crucible," but the picture is of landscape with a female drawn in with just the words "God is Dead" in quotation marks, no mention or caveat of where the quote came from in the artwork or around it.
One parent, Crystal Mitchell, says the artwork upset her 10th-grade daughter and insists it does not belong in a school and wants it taken down.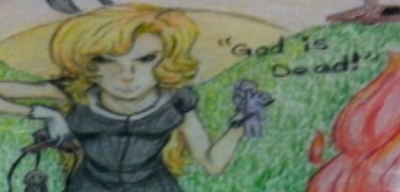 Cross posted to Before it's News