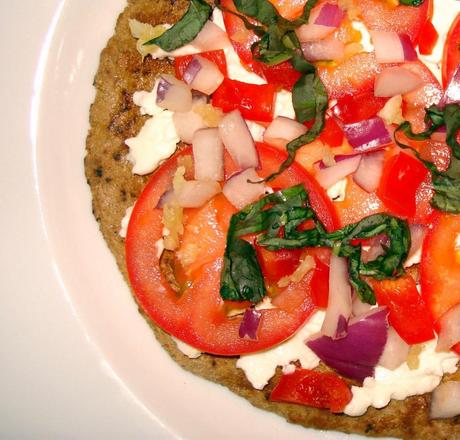 Today's recipe comes inspired by Belle Chevre, a small, female-run, artisan goat cheese creamery that makes amazing goat cheese and creative creations like fig goat cheese and olive oil packed chevre rounds. The folks at Belle Chevre contacted me because their small creamery is being kicked off their land in 2013, and they wanted help raising awareness about goat cheese and their Kickstarter project to fund new land for their business. Personally, I love goat cheese in all its forms, so I was more than happy to post this recipe for goat cheese pita pizettes.
This was one of the first recipes I created when I started cooking for my husband a couple years after we got married. It was part of my attempt to get him to enjoy pita pizzas – which now he actually requests pretty frequently! I served these crispy pizettes with homemade asparagus soup and it was a great light dinner for the two of us.
Goat cheese has such a distinct taste/flavor, you don't really need to use too much of it to make this pizette stand out.
The Ingredients: 
Whole wheat pita bread (each pita bread should have no more than 140 calories per round, and 3-4g fiber)
Fresh goat cheese – use about 1 oz per pizza
Fresh basil, thinly sliced
2 Roma Tomatoes, thinly sliced
Red onion – diced
1/2 red pepper – diced
2 cloves garlic – minced
1 tsp olive oil
Black pepper
The Directions:
Mix the garlic and olive oil. Using a pastry brush, lightly spread on both sides of the pita. On a panini press or a grill pan, grill the pita on both sides until crispy.
Crumble the goat cheese on the pita and let it melt a little
Spread the tomato slices, diced red pepper & red onion on top of the goat cheese. Top with fresh basil slices.
Use 1/4 tsp of the garlic olive oil mixture and sprinkle on top of the pizette.
If you have a toaster oven, toast on low for 3-4 min. If you don't have a toaster oven, you can put the pizzettes under a broiler for 3-4 min until the cheese and ingredients are warmed through.
Top with a sprinkle of black pepper.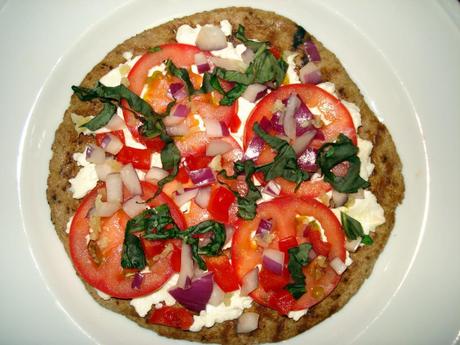 a
Super easy, delicious, light and tasty. Not bad for a first-time-cook's creation! Here's to goat cheese and those great farmers out there who keep producing high quality cheeses for all of us to enjoy.
a