Annual expo brings top travel experts to Chicago January 21 – 22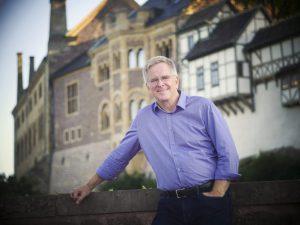 Rick Steves, Travel Expert
Seeking travel to parts unknown in 2017? Your first stop should be the 13th Annual Travel & Adventure Show, taking place January 21 – 22 at the Donald E. Stephens Convention Center in Rosemont. Here you'll find thousands of vacation options to explore, local destination experts to personalize your experience, and even better, big savings. Headlining the show are Rick Steves, Peter Greenberg, Samantha Brown, Pauline Frommer, and Johnny Jet.
Meet face-to-face with travel experts from around the world who will help you dream, personalize, and book your next trip. Also included is access to dozens of inspirational, educational and culturally focused sessions on five stages, along with hands-on activities for the whole family.
At the popular Savvy Traveler Theater, you can interact with travel experts about packing and travel technology, maximizing credit card reward points and what to do if disaster strikes while traveling.
The Destination Theater is where travelers will receive destination-specific information from local experts about when to go, how to get there, what to see and where to find local, off-the-beaten-path attractions from destinations such as Arizona, Australia, and Canada.
Get a taste of travel from top chefs who'll present live cooking demonstrations with cuisines from around the world. At the Global Beats Stage, you'll feel the beat and experience the rhythm of cultural dances and performances. Get your picture taken in your favorite destination, climb a rock wall and ride a live camel, all under one roof.
"We are thrilled to return to Chicago for our 13th year to showcase the most up to date and exciting travel opportunities from around the world," said John Golicz, CEO of the Travel and Adventure Show.
The show runs from 10am to 5pm on Saturday and from 11am to 4pm on Sunday. Attendees can purchase single-day and two-day tickets online now for a discounted rate of $11/$18 with promo code: CHPR, or on-site for $15/$22. Children 16 and under are admitted free of charge and on-site tickets can be purchased with cash only. For tickets and event information, visit www.TravelShows.com/shows/chicago.