Playtime is so important for dogs, but sometimes we humans are just not up to it. A San Diego company has come up with a solution that will let you off the hook and keep your dog busy until he plops with exhaustion.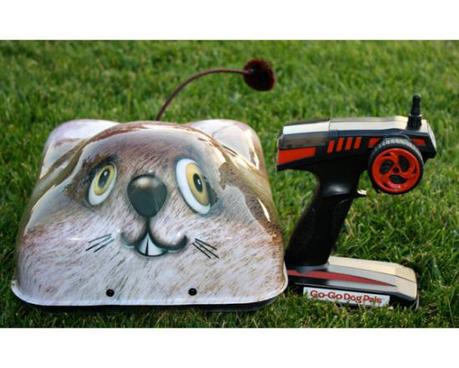 Go-Go Dog Pals
It's the Go-Go Dog Pal, a remote-controlled plastic disc on wheels with a chipmunk printed on the top surface.  Not that your dog will associate it with a chipmunk - It doesn't smell like one. - but he will chase it when you turn it on; it's in a dog's nature to chase... anything!
And the Go-Go toy can run - at speeds up to 35 miles an hour!  (You will need to be careful not to over-exercise your pup, if anything....)
Hopefully, you'll have a yard or access to a dog park or beach area where you can play with the Go-Go Dog Pal.  
The Go-Go Dog Pal has these pretty impressive features:
Dual motor: 280mm high torque motor
4WD
Double suspension system
Built-in electronic speed control system
Long distance 2.4GHz digital radio control system
7.2V 4000mAh, rechargeable Ni-Cd battery
Top speed of 35km/h
Size: 320mm*274mm*190mm
Weight: 1.76kg
Ready? Set? Go-Go Dog Pals!

That's the buzz for today!