Print Recipe
Pin
Share
Tweet
0

Shares
These Gluten-Free Vegan Pumpkin Pancakes tastes like fall thanks to the warm pumpkin spices and maple syrup! They're easy-to-make, light, fluffy, and absolutely delicious.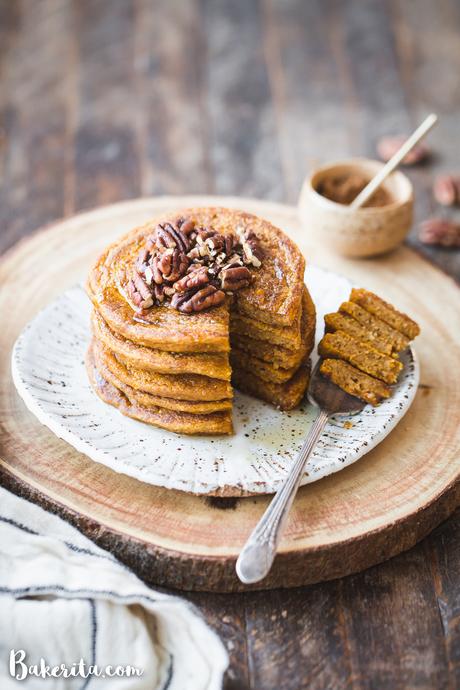 Autumn is here. Even in always-sunny San Diego, we can feel the bite in the air during the brisk early mornings and the ever-darkening evenings. I always long for this time of year during the heat of summer – I'm much more of an autumn & winter girl than a summer girl. I crave the chilly air and the delicious warm foods and spices that come along with this time of the year.
If there was ever a food that exemplified autumn, it would be pumpkin. I have a love-hate relationship with pumpkin. Love, because it's delicious and I adore the cinnamon, nutmeg, and allspice flavors that typically come along with it. Hate (though that's a strong word), that you CAN'T ESCAPE pumpkin everything this time of year. It gets added to all sorts of things that (let's be honest) would've been better without the needless pumpkin addition.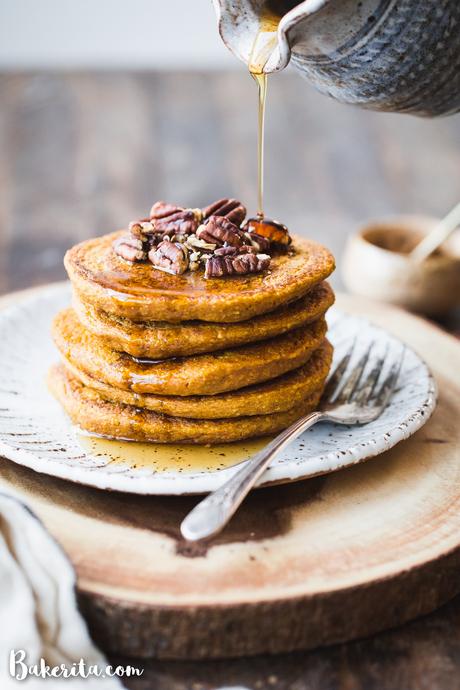 But I digress – because we're here to discuss a recipe where pumpkin is definitely welcome and shines like a bright star in the candy-colored sky: PUMPKIN PANCAKES! And gluten-free, refined sugar-free, and vegan pumpkin pancakes at that.
They're simple to make, even easier to eat, and don't need to be dolled up with all sorts of fancy toppings to be insanely good. They're fluffy and hearty and you could probably even make them before (or simultaneously with) your coffee.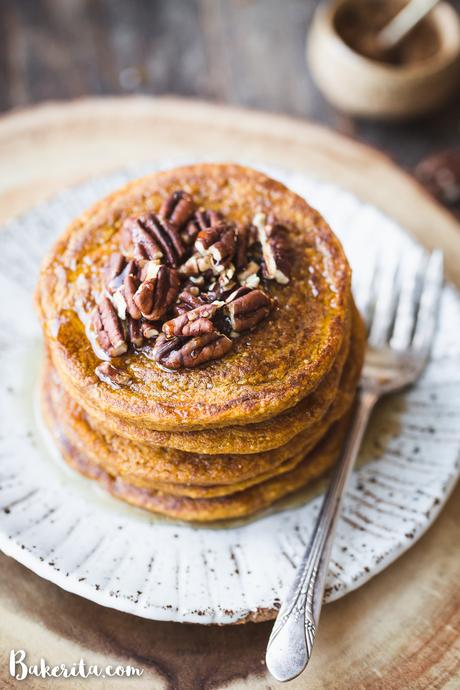 Here's what you'll need to make these pumpkin pancakes:
Almond milk
Apple cider vinegar
Gluten-free rolled oats (these act as our flour!)
Pumpkin puree
Maple syrup
Baking powder
Pumpkin pie spice
Salt
Vanilla extract
To make them? All we do is combine all of those ingredients into a blender, puree until smooth, and then let it sit for a few minutes to thicken while we heat the pan. Cook your gluten-free vegan pumpkin pancakes and voila – that's all. Simple recipes are the best, right?!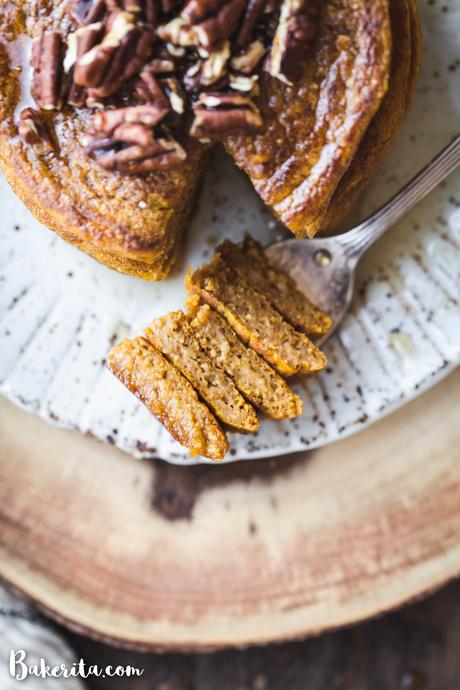 A few tips and tricks…
Make sure to use a good Teflon-free non-stick pan (I love my Scanpans). No one likes stuck pancakes.
This recipe doesn't make a huge batch. Enough for two moderately hungry people or one very hungry person. Double (or triple, or quadruple) as needed!
Let the batter sit and thicken for a few minutes after blending it. Heat the pan during those few minutes.
These pumpkin pancakes can be kept as leftovers if you don't finish them all, or if you want to make extra to have as meal-prep. To store, let the pancakes cool completely and then place in the airtight container in the refrigerator for up to 5 days.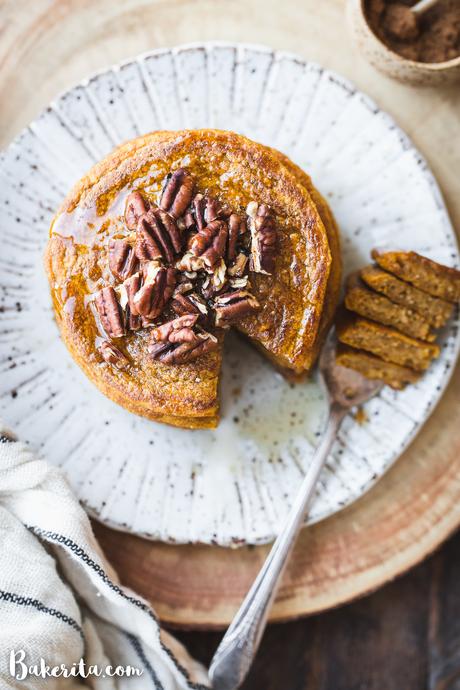 As for toppings, I like to keep it simple with a little vegan butter, chopped pecans, and maple syrup. Sauteed apples would be a fantastic choice if you're feeling a little ~fancy~ but however you have them, they'll be delicious!! 
I hope you enjoy these fabulous gluten-free vegan pumpkin pancakes as much as we do! Happy Autumn. Sending lots of love to you! Oh, and if you try these pancakes, be sure to tag me on Instagram @bakeritablog and #bakerita! 
If you like these Pumpkin Pancakes, you'll also enjoy…
Blueberry Banana Pancakes (Gluten-Free + Vegan)
Chocolate Chip Vegan Pumpkin Bread (Gluten-Free)
Print
Gluten-Free Vegan Pumpkin Pancakes
---
Author:

Rachel

Prep Time:

5

Cook Time:

15

Total Time:

20

Yield:

6

to

7

small pancakes

1

x

Print Recipe
Description
These Gluten-Free Vegan Pumpkin Pancakes tastes like fall thanks to the warm pumpkin spices and maple syrup! They're easy-to-make, light, fluffy, and absolutely delicious. 
---
Scale
Ingredients
½ cup almond milk or dairy-free milk of choice
½ teaspoon apple cider vinegar
1 cup (96g) gluten-free rolled oats
⅓ cup pumpkin puree
2 tablespoons pure maple syrup
1 tablespoon baking powder
1 teaspoon pumpkin pie spice
⅛ teaspoon sea salt
1 teaspoon vanilla extract
To serve:
coconut whipped cream, pure maple syrup, chocolate chips, fruit, and/or nut butter
---
Instructions
In a small bowl or liquid measuring cup, combine the dairy-free milk of your choice and apple cider vinegar and let stand for 3 minutes.
In a blender, combine the dairy-free milk mixture, oats, pumpkin, maple syrup, baking powder, pumpkin pie spice, sea salt, and vanilla.
Blend for 30 seconds until the oats are broken down and smooth. Let the batter stand for 5 minutes to thicken up.
While the batter thickens, heat up a skillet or griddle pan to medium heat. Once pan is hot, add a bit of coconut oil to grease the pan, and then add 1/4 cup of batter to the pan. Cook for 2 minutes or until the edges look cooked, before flipping gently, and cooking for another 1-2 minutes, or until golden brown.
Repeat until all of the batter is gone, adding more coconut oil (if needed) between each pancake. If you're using a griddle or large pan, you can do more than one at a time.
Serve warm, with coconut cream, maple syrup, chocolate chips, fruit, and/or nut butter!
If saving for later, store wrapped in plastic wrap or an airtight container in the refrigerator. Reheat in the microwave for 15 to 30 seconds.
---
Keywords: breakfast, pumpkin, pancakes, gluten-free, vegan

Did you make this recipe?
Tag @bakeritablog on Instagram and hashtag it #bakerita
Related Posts
Gluten-Free Vegan Sweet Potato Blondies
Pumpkin Spice Energy Bites (Gluten-Free, Vegan, Pa...
Vegan Pot Pie (Gluten-Free & Paleo)
Gluten-Free Vegan Chocolate Crinkle Cookies
Gluten-Free Vegan Peanut Butter Cup Cheesecake
Gluten-Free Vegan Lemon Cake
Pin
Share
Tweet
0

Shares