Pin
Share
Tweet
0

Shares
Jump to Recipe
·
Print Recipe
These Easy Gluten-Free Vegan Chai Muffins are spiced with all the flavors of a masala chai and topped with a simple cashew butter glaze. They have fluffy insides and sugared crunchy tops. The perfect cozy muffin!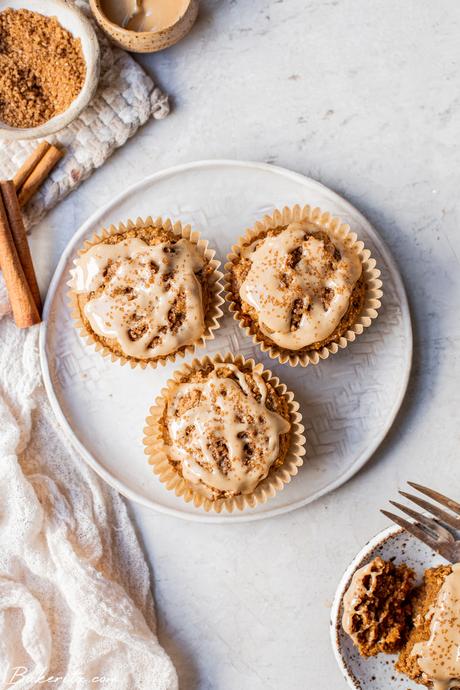 Where are my fellow muffin lovers at?! I'm a major muffin lover, and pretty much always have some stocked in my freezer for when I need a quick breakfast or sweet snack. I have an entire roundup with my favorite gluten-free muffins! I'm also super into chai lattes – I have one pretty much every morning ever since I quit drinking coffee. The chai spices are so warming, absolutely delicious, and bring a big smile to my face.
Combining my love for muffins and chai seemed like a natural progression, and the result is delicious. Topped with a simple cashew butter glaze, these chai spice muffins will knock your socks off. They're lightly sweetened, fluffy, flavorful, and perfect for breakfast, as a snack, or a delicious dessert.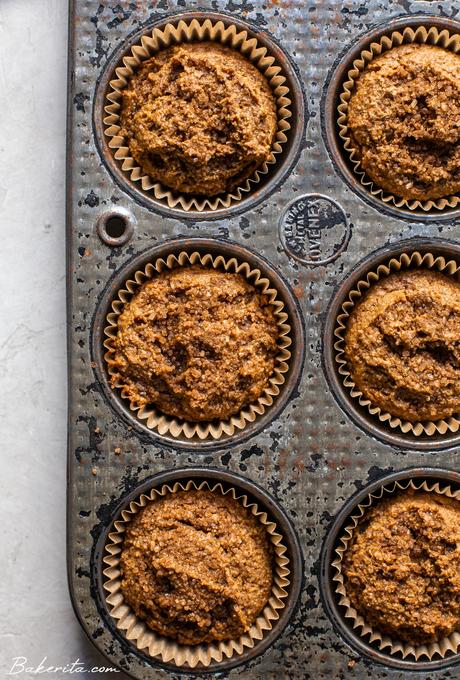 What are chai spices?
In India, the word chai itself means tea. A common Indian drink is a masala chai, which translates to "spiced tea". Here in America, when we hear chai, we generally think of the masala chai — usually served in the form of a chai latte. The spices are an amazing digestion aid and are incredible warming. Though it varies by region, the most common spices that are typically included are:
Cinnamon
Nutmeg
Cloves
Allspice
Ginger
Cardamom
Black Pepper
I have an entire post with my chai latte recipe and include my favorite blend to make your own chai spice blend. You can also often find premixed chai spice blends, especially at Indian grocery stores, just make sure you're not purchasing one that has sugar or powdered milk added to it – you want just the spices. Although, you could also use something like this chai mix, which has powdered black tea added to it, and skip the step of steeping the tea.
So, now that we've covered what chai is – let's get into making some fabulous chai muffins!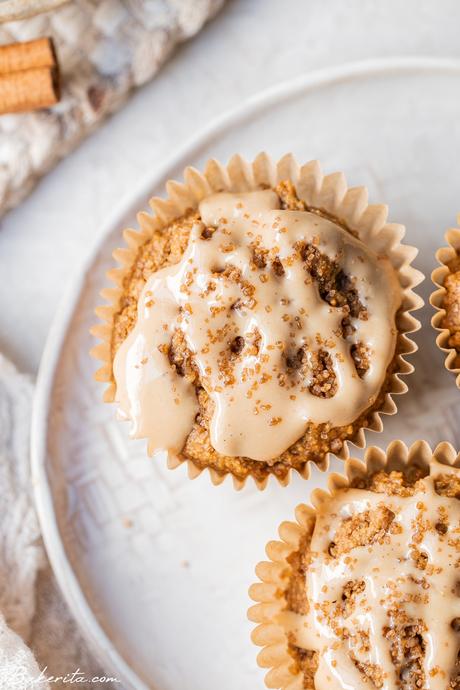 Ingredients for Chai Muffins + Substitutions:
Dairy-Free Milk: any daity-free milk will work, but I recommend one that is unflavored and unsweetener. I tested with a plain unsweetened almond milk.
Chai or Black Tea Bag: for additional tea flavor. This can be skipped, but adds an extra depth of flavor!
Pumpkin Puree: you can also use unsweetened applesauce or mashed banana. I used pumpkin, which is why my muffins are a darker more orange color.
Coconut Sugar: any granulated sweetener will work here, just don't substitute any liquid sweeteners, like maple syrup or honey.
Cashew Butter: or any other nut or seed butter of your choice. Cashew and almond have the most subtle flavor – something like peanut butter will add a lot of flavor.
Coconut Oil: I like using refined coconut oil, but any oil or butter will work.
Vanilla Extract: A must! Don't skip this – adds depth of flavor.
Gluten-Free Oat Flour: helps give a light and fluffy texture to these chai muffins. You can replace it with cassava flour for a grain-free muffin.
Blanched Almond Flour: use more oat flour to make these muffins nut-free (and use a seed butter in place of the nut butter).
Flax Meal: helps bind these vegan muffins together! Ground chia seeds will also work here.
Chai Spice Mix: you can find a premade chai spice blend you love, or use my homemade chai spice blend.
Baking Powder, Baking Soda & Salt: these are musts! Don't subtitute or leave them out.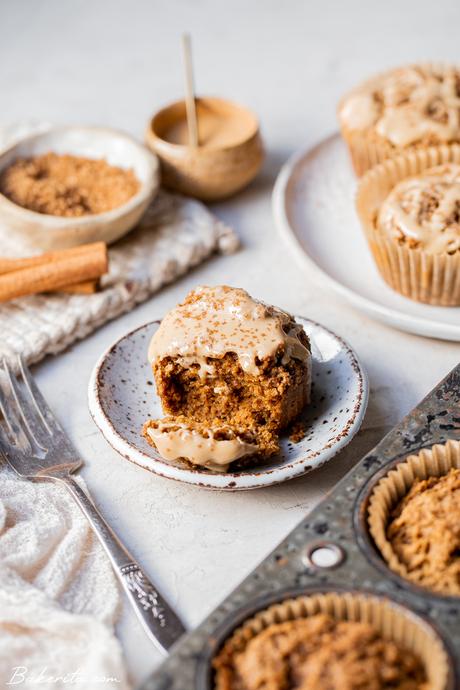 How to make Chai Muffins:
Steep the tea: start by warming the milk, and steeping the tea into the milk for 10 minutes. This step is optional!
Combine the wet ingredients: Once the tea is steeped, whisk together the milk, pumpkin puree (or bananas or applesauce), coconut sugar, cashew butter, coconut oil, and vanilla extract.
Whisk the dry ingredients in: add in the oat flour, almond flour, flax meal, chai spice, baking powder, baking soda, and salt. Stir until well combined.
Divide and Bake: divide the batter evenly between the muffin tins, sprinkle with turbinado sugar, at bake at 350°F for 20 minutes.
Glaze & devour: whisk together the glaze while the muffins bake. Once they're out, cool and then drizzle with glaze. Devour!!
How to store muffins:
These chai muffins will keep at room temperature for up to 2 days, I recommend storing in an airtight container. You can also refrigerate them for up to one week, or keep them in the freezer for up to six months.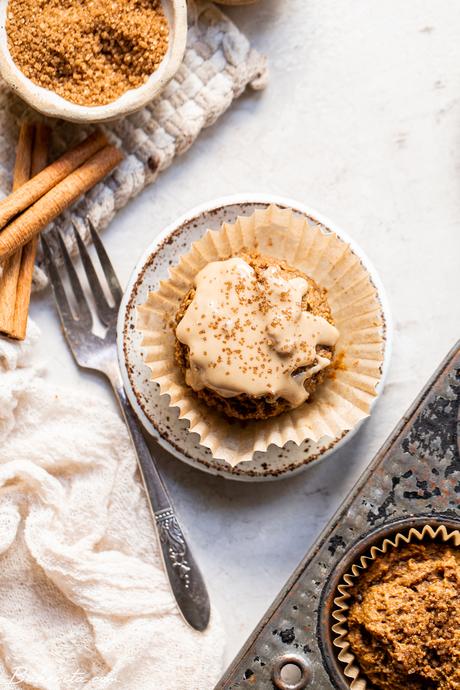 More gluten-free vegan muffin recipes:
Double Chocolate Muffins
Lemon Poppyseed Muffins
Carrot Cake Muffins
Chocolate Chip Pumpkin Muffins
15+ Gluten-Free Muffin Recipes
More recipes using chai spice:
Vegan Chai Cheesecake Bars
Gluten-Free Vegan Chai Sugar Cookies
Chai Spice Granola
Paleo Pumpkin Chai Cupcakes
Print clock clock iconcutlery cutlery iconflag flag iconfolder folder iconinstagram instagram iconpinterest pinterest iconfacebook facebook iconprint print iconsquares squares iconheart heart iconheart solid heart solid icon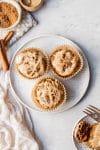 Gluten-Free Vegan Chai Muffins
---
Author:

Rachel Conners

Total Time:

30 minutes

Yield:

10

muffins

1

x

Diet:

Vegan
Print Recipe Pin Recipe
Description
These Easy Gluten-Free Vegan Chai Muffins are spiced with all the flavors of a masala chai and topped with a simple cashew butter glaze. They have fluffy insides and sugared crunchy tops. The perfect cozy muffin!
---
Ingredients
Scale
⅓ cup

unsweetened almond milk, or dairy-free milk of choice 

1

chai or black tea bag

¾ cup

(

195g

) pumpkin puree, mashed banana, or applesauce

⅓ cup

coconut sugar

¼ cup

(

64g

) raw cashew butter, or other nut or seed butter

¼ cup

(50g)

coconut oil

, melted, use refined for no coconut flavor

½ teaspoon

vanilla extract

1 cup

(

120g

) gluten-free oat flour
1 cup (96g) blanched

almond flour

2 tablespoons

flax meal

4 teaspoons

chai spice mix

1½ teaspoons

baking powder

¾ teaspoon

baking soda

½ teaspoon

sea salt
Turbinado sugar, to sprinkle on top
For the glaze
¼ cup

cashew butter

2 tablespoons

maple syrup

3 tablespoons

coconut oil, or more as needed
---
Instructions
Preheat oven to 350°F. Line a

muffin pan

with paper liners or grease with coconut oil.
Heat the unsweetened almond milk until it's just steaming. Steep the black tea or chai in the milk as directed on the tea – usually 5 to 10 minutes.
Once steeped, combine the milk, pumpkin,

coconut sugar

, cashew butter, coconut oil, and vanilla extract, stirring to combine.
Add oat flour,

almond flour

,

flax meal

, chai spice mix,

baking soda

,

baking powder

, and salt. Stir until combined.
Divide between the 10 to 12 muffin tins (10 will give bigger fluffier muffins, 12 will be slightly smaller). Sprinkle with turbinado sugar before baking if desired from a crunchy, sugary crust.
Bake for 20-22 minutes, or until a toothpick comes out clean and the muffins spring back when pressed lightly with a fingertip. Once done, let cool completely on a wire rack.
Store in the refrigerator for up to a week, or in the freezer for up to 6 months. I like to freeze and heat a muffin in the microwave when I want it!
To make the glaze:
Whisk together the cashew butter, maple syrup, and coconut oil until a drizzle-able consistency is reached. Add more coconut oil if needed. Drizzle over muffins.
Prep Time:

10 minutes

Cook Time:

20 minutes

Category:

Baked Goods

Method:

Baking

Cuisine:

American Indian
Keywords: chai spice, cashew butter glaze, vegan muffins, gluten-free muffins
Did you make this recipe?
Tag @bakeritablog on Instagram and hashtag it #bakerita
¼½¾⅓⅔⅕⅖⅗⅘⅙⅚⅛⅜⅝⅞
Pin
Share
Tweet
0

Shares