This post may contain affiliate links. Please read my disclosure.
This healthy and vegan friendly gluten free stuffing can be enjoyed by all! With celery, mushrooms, and onions in a savory broth overtop a gluten-free bread, this stuffing bakes up light and fluffy!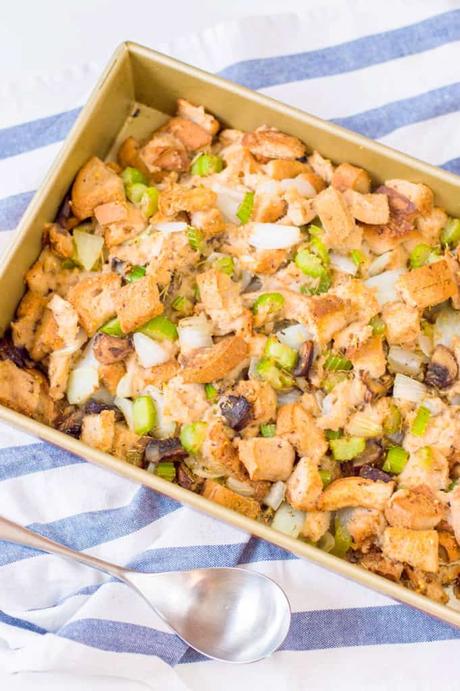 One dish that I look forward to every Thanksgiving (besides Pumpkin Pie of course) is stuffing!! I typically make it from scratch because most stuffing recipes are not vegetarian, vegan, gluten-free, or healthy.
We're all familiar with the boxed versions we see on the grocery store shelves in November. Full of sodium and artificial ingredients, these make for an easy side dish, but not a healthy one.
If you're expecting guests at your holiday meal that have dietary restrictions, then the store bought versions just won't do.
This gluten-free, vegan stuffing recipe checks all the boxes. It's super flavorful and has all the traditional seasonings we know and love. It's gluten-free, making it suitable for anyone with a gluten sensitivity, and it's made with vegetable broth and baked in the oven so it's also vegetarian and vegan friendly.
Give this Thanksgiving gluten-free stuffing a try! It will be a crowd pleaser for sure!
Tools and Equipment You'll Need
Recipe Ingredients and Notes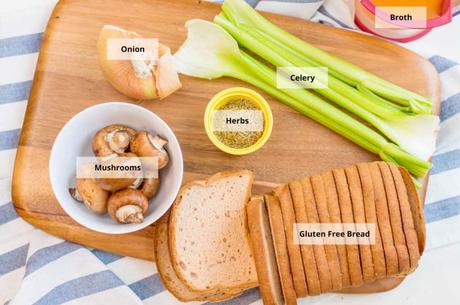 Gluten-Free Bread: You will need one loaf of gluten-free bread of your choice. Leave it out on your countertop for a few hours, or overnight for best results. You want the bread to dry out as much as possible. You can also toast it to make it extra dry!
Veggies: This recipe uses mushrooms, celery, and onions to create a rich depth of flavor in the stuffing.
Broth: For a vegan friendly and healthier recipe use a low sodium vegetable broth.
Spices: Thyme, rosemary, salt and pepper create those traditional Thanksgiving flavors.
How to Make Gluten Free Stuffing - Step by Step
Step 1: You'll want to leave the cut bread out on the countertop for about 2 hours to dry out - even overnight, if you wish.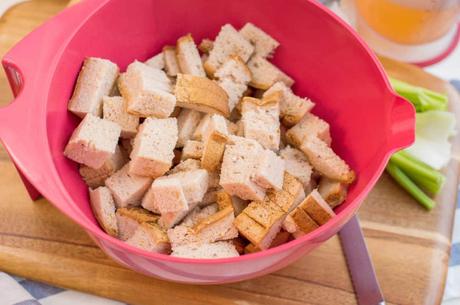 Step 2: Preheat oven to 350 degrees F. Add olive oil to a medium skillet followed by the veggies: celery, mushrooms and onions. Cook until soft and fragrant, about 5-6 minutes.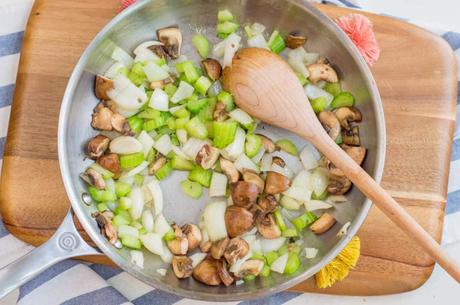 Step 3: Add cubed bread and veggies into a large bowl. Pour vegetable broth into the mix and season with salt and pepper. Gently fold together to combine.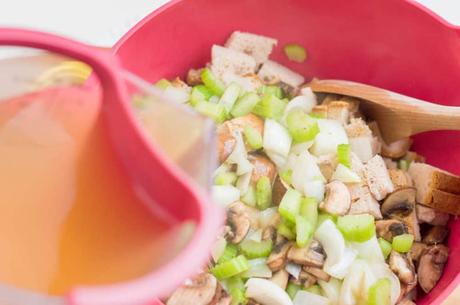 Step 4: Add the thyme and rosemary and combine.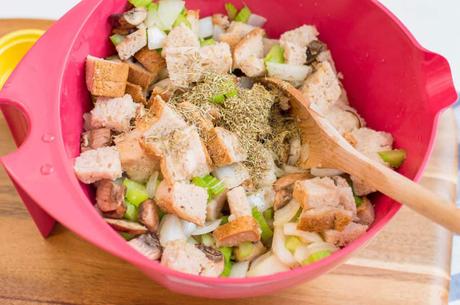 Step 5: Pour stuffing into an 11×13 inch pan or casserole dish and bake for 40-50 minutes. Serve and enjoy!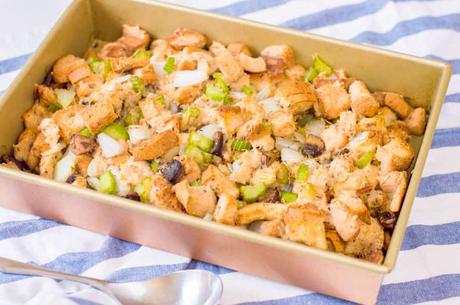 What Makes this Gluten-Free Stuffing Healthy?
Low in Fat and Calories: Unlike other stuffing recipes, this stuffing is baked in the oven, rather than inside the turkey cavity. Thus making it lower in calories, and fat. Each huge serving has under 170 calories!
High in Fiber: I recommend choosing a gluten free bread that's made with high fiber whole grains. Then you will end up with a stuffing that has over 6 grams of fiber per serving.
Gluten-Free and Vegan Friendly: This recipe is perfect if you or your guests are gluten-free or vegan. Using a gluten-free bread, vegetable broth, and baking it in the oven, it's a side dish that everyone at your holiday dinner table can enjoy!
Will Kids Enjoy This Gluten Free Stuffing Recipe?
Kids will love this vegan stuffing recipe! It's super light and fluffy. If your kids don't like mushrooms, you can easily sub out the mushrooms for a different vegetable such as carrots. It's soft, on the inside, and crunchy on the outside.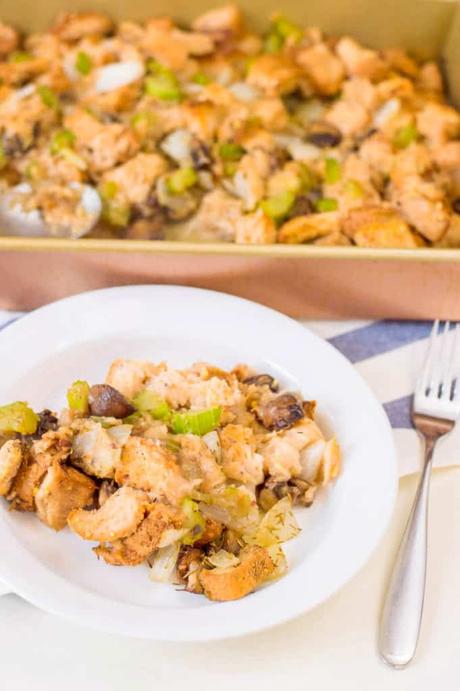 Recipe FAQS
How do you store and keep this gluten free stuffing?
To Store: Allow the stuffing to cool completely before transferring leftovers to an air tight container. Store in the refrigerator for 3-4 days.
To Freeze: Once this gluten free stuffing has cooled, place it in a freezer friendly air-tight container. It will keep in the freezer for 3-4 months.
To Reheat From Frozen: You can reheat in the oven at 350 degrees for 10-15 minutes (or until warmed through); or let it thaw in the fridge and then warm in the microwave.
Can I use a different type of broth for this vegan stuffing recipe?
Yes, you can use a different type of broth. You can use your own homemade vegetable broth or if your family is not vegan or vegetarian, you can choose to use a chicken broth. I recommend using a low-sodium version.
Can I add more vegetables?
You can certainly add more vegetables to this vegan stuffing. You don't want the amount of vegetables to take over the bread, so if you do choose to add more vegetables I suggest keeping the total measurements about the same.
Variations and Substitutions
Don't like mushrooms? Add carrots, parsnips or other root vegetables.
Add different spices: Thyme and rosemary are added, but you could also put your own spin and add some fresh sage, or parsley to amp up the flavor.
Try different bread! Cornbread can be made gluten free, and is an amazing substitution for the gluten free bread in this recipe.
Make it keto or paleo friendly: Just replace the bread with roasted cauliflower and you've got a low carb, keto stuffing!
Add protein: Lentils can be an excellent vegan and gluten-free mix-in for stuffing that needs more protein.
Top Tips for Making Gluten Free Stuffing
Buy day old bread. Or allow the bread to sit out for 1-2 days until it becomes stale and dries out. You can also toast your bread so it ends up super dry. This will allow the bread to soak up the broth and spices and bake up light and fluffy.
Don't over mix when you pour the broth over the bread. You want to allow the bread to soak up the broth, but you don't want to break up the pieces of bread so that they become mushy.
Make sure you don't add too many ingredients to your stuffing - the bread should be the star, so you should always have more bread than other ingredients.
If your stuffing turns out too moist or mushy, pour it onto a large baking sheet and spread it out. Bake it at 350 degrees until it has dried out and become the right consistency.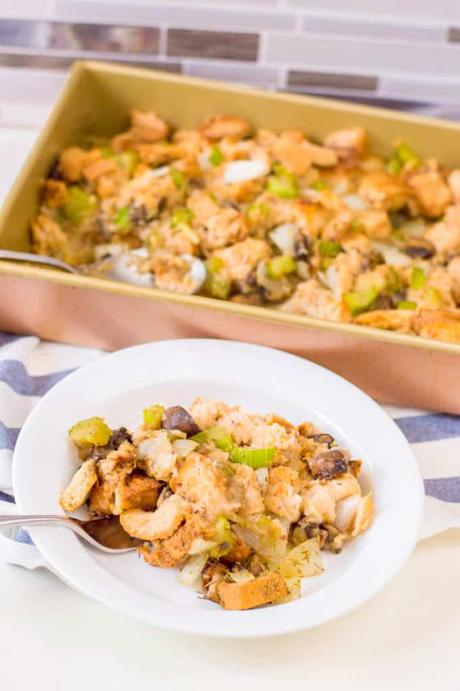 Check Out These Other Healthy Thanksgiving Recipes!
If you have tried this gluten free stuffing recipe or any other recipe on my blog, then please rate it and let me know how it turned out in the comments below! You can also FOLLOW ME on
FACEBOOK
,
TWITTER
, INSTAGRAM, and
PINTEREST
to see more delicious, healthy, family friendly food!
Gluten Free Stuffing