This post may contain affiliate links. Please read my disclosure.
This healthy main dish has all the comfort and flavor of a pasta bake, without the pasta! This spaghetti squash casserole is easy to make and packed full of nutritious ingredients for a delicious family meal.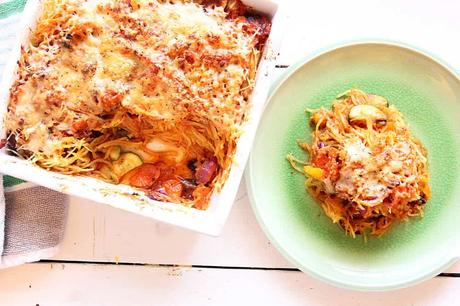 When I think of comfort food, a good pasta bake or casserole is at the top of the list, but they aren't always the best choice for a healthy dinner. My lightened up version is made with spaghetti squash for a gluten free and lower calorie main meal.
It's super cheesy, yet packed with veggies for extra nutrients. Whether you're a vegetarian or a meat eater you'll be completely satisfied with this filling and flavorful recipe.
I love how easy this spaghetti squash casserole is to make: it will take you about 15 minutes to prep, and then all you have to do is pop it in the oven to bake for 30 minutes. Leftovers can be stored covered in the fridge for 3 to 4 days and reheated. The recipe is vegetarian and gluten free, and to make it vegan, simply substitute the cheese for a vegan variety.
Kitchen Tools and Equipment You'll Need to Make This Spaghetti Squash Casserole
How to make This Spaghetti Squash Casserole - Step by Step
Step 1: Preheat oven to 350ºF. Poke spaghetti squash all over with a knife and cook in the microwave for eight to 12 minutes until soft. If you don't have a microwave, place the poked squash on a baking pan and bake at 375ºF for 45 to 60 minutes.
Step 2: While the squash is cooking, add oil, yellow pepper, red onion, carrots, zucchini, garlic, Italian seasoning red oregano crushed red pepper, and salt to a pan. Cook over medium heat for about 10-15 minutes or until fully cooked through.
Step 3: Cut the squash in half, scoop out the seeds, and with a fork, scrape the flesh from the peel. It should flake off easily in strings, resembling spaghetti.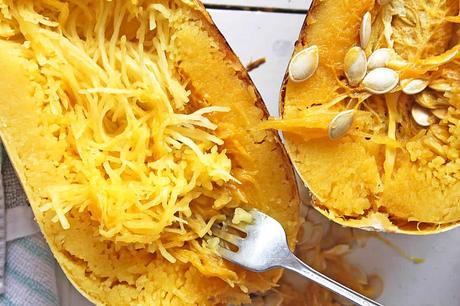 Step 4: Place the spaghetti squash flesh in a casserole dish. Add the cooked veggies, pasta sauce, and half of the cheese and mix well. Sprinkle the other half of the cheese on top and bake for 30 minutes or until the cheese is bubbly.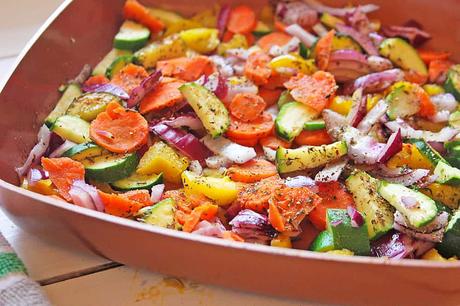 Step 5: Allow to cool for five minutes, serve, and enjoy!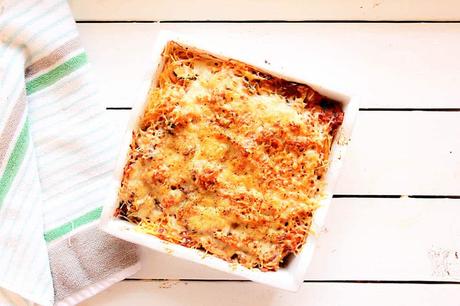 What makes this Spaghetti Squash Casserole healthy?
High in Vitamins and Nutrients: Spaghetti squash, zucchini, carrots, and bell peppers are nutrient dense foods that are low in calories but high in vitamins and minerals. Spaghetti squash is a good source of protein and fiber as well as vitamins C and B6. Cooked zucchini is particularly high in vitamin A. Carrots contain vitamin A, antioxidants, and other nutrients. Bell peppers are rich in antioxidants, vitamin C and various carotenoids.
High in Fiber: This dish is loaded with veggies which increases the amount of fiber in each serving. One serving contains 8 grams of fiber which is 25% of your daily recommended fiber intake. Fiber helps with digestion, heart health, and makes you feel fuller longer reducing the frequency with which you get hungry and consume more calories.
Low in Fat and Calories: Since the pasta has been replaced by spaghetti squash in this recipe the calorie count is reduced. The amount of cheese is also less than typical pasta bake recipes which helps lower the total fat per serving. One serving has 275 calories and 12 grams of fat. If you need to lower the fat more, reduce the amount of cheese and oil used to cook the vegetables.
High in Protein: Although this spaghetti squash casserole is meat free it's high in protein at 16 grams per serving.
Will kids enjoy this Spaghetti Squash Casserole?
This is a kid friendly dish with all the traditional components of a pasta bake or casserole but loaded with veggies, and topped with bubbly cheese. My kids had no idea they were eating a spaghetti squash instead of actual spaghetti!
What does spaghetti squash taste like?
Spaghetti squash is a great replacement for pasta - it looks like spaghetti and has a similar tender and slightly chewy texture. The flavor is mild, not sweet or earthy, so it won't compete with the flavors from the sauce and other ingredients. It's a complimentary ingredient for many recipes.
How do you cut a spaghetti squash open?
Using a sharp knife, poke a few small slits in the squash skin; poke in a dotted line along where you plan to slice the squash in half.
Microwave squash 8-12 minutes. Allow to cool slightly.
Place squash on cutting board with the most-flat surface down. Slice off the stem, then slice along your 'dotted line' to cut it in half.
Scrape out the seeds with a spoon.
Use a fork to pull the flesh away from the peel.
Can you freeze Spaghetti Squash Casserole?
You can freeze this Spaghetti Squash Casserole for 2-3 months. Remove it from the casserole dish and transfer to an air tight container. I wouldn't recommend a freezer bag since it won't help the casserole hold together as well.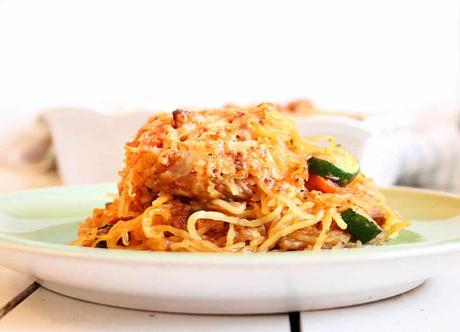 What do you serve with Spaghetti Squash Casserole?
This casserole stands on its own, but if you want to add a few sides here are my favorite serving suggestions:
Whole wheat baguette or whole Wheat Garlic Bread
A light salad like a Cesar or Spinach Salad
Roasted veggies like Brussel Sprouts or carrots
Steamed Almond Green Beans
Top Tips To Make Spaghetti Squash Casserole
Cut the squash across the middle for longer strands. When you cut it lengthwise you halve the strands, as they are arranged in a circular formation.
To save time, cook the spaghetti squash is in the microwave, but you can also cook it in the oven.
This is a really versatile dish, if you don't have all the veggies in the recipe add the ones that you have in your fridge.
For convenience I use jarred pasta sauce, but if you have time, you can always make your own!
Be sure to check out these other healthy gluten free recipes!
If you have tried this spaghetti squash casserole recipe, or any other recipe on my blog, then please rate it and let me know how it turned out in the comments below! You can also FOLLOW ME on FACEBOOK, TWITTER, INSTAGRAM and PINTEREST to see more delicious, healthy, family friendly food!
Gluten Free Spaghetti Squash Casserole