This is the best easy Gluten-Free Pizza Crust - it's fluffy, chewy, crispy, and works great for either a thin or thick crust. It's vegan & Top 8 allergy-friendly, and made with just 8 ingredients in about an hour. Time for pizza night! Thanks to Bob's Red Mill for sponsoring this post.
I'm eating the pizza that you're looking at while I write this...oh my, it is so good. I wish I could teleport a slice right to you so you too can be enjoying delicious gluten-free pizza at this very second.
Unfortunately technology hasn't advanced there quite yet, but I can teach you how to make this amazing fluffy and crispy gluten-free pizza crust. It's so easy, you can be enjoying it in about an hour and a half, give or take a bit.
If you don't want to mess with yeast, I do have this other amazing gluten-free vegan pizza recipe, but if you have a little extra patience, I think this one is even better. Working with yeast is pretty simple, and the results are truly outstanding. Let's get into it!
Why You'll Love this GF Pizza Crust!
Easy to make
Vegan, nut-free & dairy-free
Only 8 ingredients!
Chewy and crisp texture
Fluffy crust
Can be made thin or thick depending on your preference
Work with all your favorite toppings
Freezes well to make ahead of time
If you're looking for more perfected gluten-free recipes try this amazing homemade gluten-free bread, the best gluten-free chocolate chip scones, and my all-time fave gluten-free chocolate chip cookies!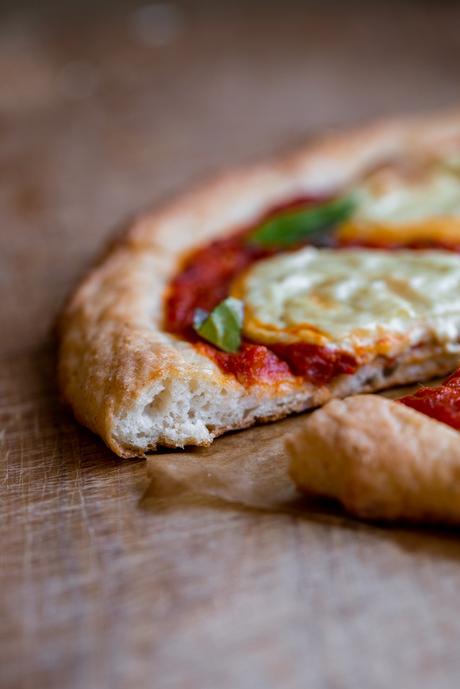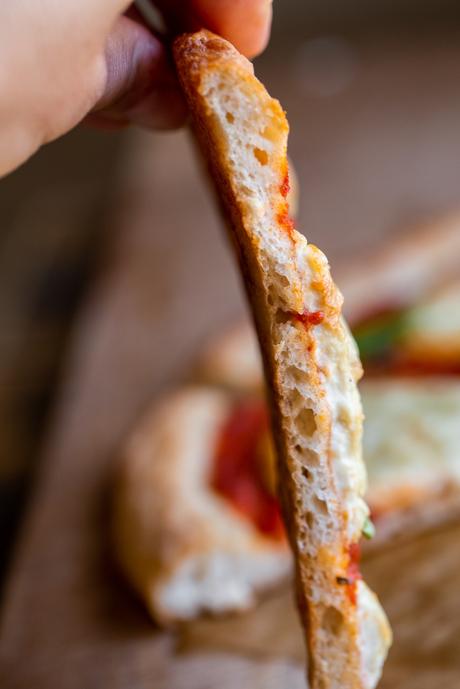 What you'll need to make this crust:
Active Dry Yeast: I use active dry yeast from Bob's Red Mill. This gives the crust it's lift and fluffiness! Bob's yeast comes in a bag instead of individual packets which I love (less waste!) and always activates well and quickly.
Sugar: this sugar doesn't add sweetness per se, it's used to feed the yeast and help your dough get nice and active.
Psyllium Husk: don't skip or replace this! It gives this gluten-free pizza crust it's chew and elasticity. It also makes the dough super easy to work with!
Filtered Water: filtered is always best so minerals and chemicals in hard water don't interfere with the rise.
Starch: I used Bob's Red Mill Potato Starch for the starch component. Tapioca flour and arrowroot flour also work well here, or you can use a combination of these starches, which add a light and fluffy texture and help the crust get crispy.
Gluten-Free Whole Grain Flours: I used a combination of Bob's Red Mill Brown Rice Flour & Millet Flour for the one you see in the photos! I've also experimented with sorghum flour, quinoa flour, and white rice flour, and all of the combinations have worked super well!
Salt: a must for every recipe!
How to make gluten-free vegan pizza crust
Activate the yeast with warm water (should be pretty hot, but just cool enough to hold a finger in without it burning) and sugar, which feeds the yeast. Let this bubble and activate.
Mix up the psyllium gel by combining and psyllium husk with water. This will thicken as it sits.
Combine the flours. I use a combination of starches (like potato, tapioca, and/or arrowroot) and whole grain flours (like brown rice flour, sorghum flour, millet flour, quinoa flour, etc.) for the best crispy, chewy texture. All of my flours and starches come from Bob's Red Mill! Mix the salt in here too.
Mix the yeast and psyllium into the dry ingredients and combine until a dough forms. You should have a soft, pliable dough.
Let rise for 30 minutes and then divide into two if you want two thinner crusts. Leave as one ball if you want a thick crust. Press into your crust shapes on parchment paper.
Parbake for 10 minutes until the bottom is golden and the crust is firm. Bake for 15 minutes if doing the thicker crust.
Add toppings to your pizza and then finish baking for another 10 to 15 minutes or until your toppings are golden and done to your liking!
Slice, serve, and devour!!
How to make pizza crust ahead of time
You'll want to prepare the crust all the way through the first par-bake. Once you have your crust (if you went thick) or two crusts (if you want thin), you will let them cool and then wrap well in foil or another wrap, tuck into a freezer zip bag, label with the date and contents, and freeze for up to six months.
When you're ready to use, simply take it out and let it thaw at room temperature for a bit. Add all of your toppings, and bake your pizza! Voila - gluten-free pizza on demand, whenever you want it.
Tips for the best gluten-free pizza crust
Use a pre-heated pizza stone or a cast iron pizza pan if you have one! It really helps crisp up the bottom. If you don't have one of these, you can also preheat your baking sheet to help get the crispiest bottom possible. You may need to par-bake the crust a little bit longer if you don't do this.
Your fingers are your best tool for pressing out the crust! I like rubbing a little oil on my hands when shaping the crust. You can use a rolling pin if you prefer, but it will squish the crust.
Always par-bake the crust - gluten-free crust needs more baking time than traditional crust, and you don't want the toppings to burn before the crust is baked through.
More pizza goodness, and favorites to serve with it!