This Gluten-Free Lemon Poppyseed Loaf Cake is a light and refreshing loaf cake with a delicious lemon glaze! It's easy to make in one bowl and only takes 10 minutes to mix up the batter. This easy-to-make cake is gluten-free, grain-free, and vegan-friendly.
A few months ago I moved into a new house, and one of my favorite features of this house is the giant Meyer lemon tree that stands tall and loaded with fruit right next to the front door. I haven't bought a lemon since I moved in, and the giant, juicy lemons have become the inspiration for many of my favorite meals since I've lived here. The lemon vinaigrette from this kale salad recipe is one of my favorites.
Of course, the gorgeous lemons have also begged me to turn them into delicious baked goods as well and finally got me to bring this gluten-free lemon poppyseed loaf cake to life. I don't know why I waited so long! This loaf cake is all of the things:
This cake is also made with wholesome gluten-free and vegan ingredients, which made it perfect for serving to friends and family with allergies or sensitivities - but trust me, this one is delicious enough to serve to anyone! I shared it with my mom and aunt (who both eat everything) and they were very happy campers. This cake is light and fluffy enough that it doesn't have the dryness or grittiness that some gluten-free baked goods can have.
Tips & tricks for the best lemon poppyseed loaf cake
Use organic lemons. Since we're adding the lemon zest in addition to the juice, you'll want to make sure you're using well-washed organic lemons to avoid adding unwanted pesticides and wax to your bread.
Don't add too many poppy seeds. They can absorb extra moisture, so be sure to stick to the amount called for.
Measure correctly. Gluten-free and vegan baking can be tricky, so I recommend using a scale, or measuring carefully by spooning into the measuring cup, to get the exact right amount of ingredients.
What's that lemon glaze on top?
It's a simple lemon glaze made from a simple combo of organic powdered sugar and lemon juice. Super simple and easy!
If you'd rather have a refined sugar-free glaze, I love doing a combination of melted coconut butter, lemon juice, and enough dairy-free milk to thin it out to a pourable consistency. The coconut butter helps it firm up to that classic crunchy glaze consistency.
What's the best way to store this gluten-free lemon poppyseed cake?
This loaf cake stores well at room temperature for up to two days. I keep mine covered in plastic wrap or in a zip bag to maximize freshness.
If you'd like to store it for longer, it will keep well in the refrigerator in an airtight container for up to five days.
To freeze, wrap the loaf well in plastic wrap and place in an airtight container or zip bag. Freeze for up to three months.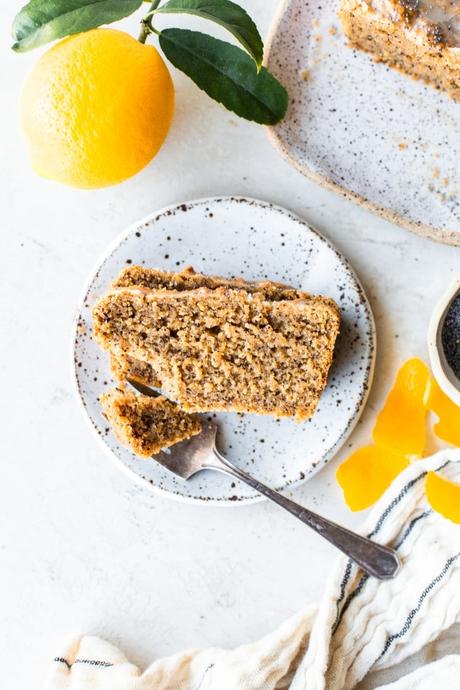 More lemon goodness!
Want more gluten-free quick bread recipes?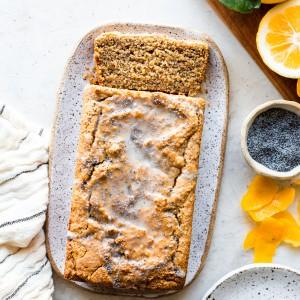 Gluten-Free Lemon Poppyseed Loaf Cake