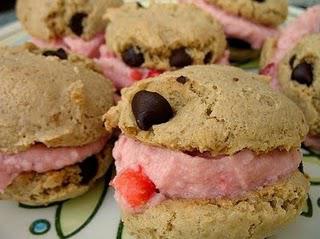 Aren't these gorgeous?  They aren't mine.  Well not completely.  The cookie recipe, yep that's mine.  But I didn't bake or make these darling cookie sandwiches.
These are courtesy of the all vegan, all gluten-free, all-the time blog.  Check out xgfx!  Kittee Berns tagged me on fb, and I had to share this photo with you.  I love that she used only strawberries in the filling - look how bright and playful!
If you haven't tried my gluten-free chocolate chip cookies, they're waiting for you here!
Love that Kittee helped me out with a pretty pic for a post today - thanks Kittee! :)
Have to keep it sweet and short today, as my manuscript is due tomorrow. (!!zoinks!!) More soon!