This Gluten-Free Bread recipe with yogurt (I use dairy-free to make this a vegan bread) was repeatedly called "the best gluten-free bread ever"! The yogurt adds softness and tang to the fluffy gluten-free bread, giving it a sourdough-like flavor without the need for a starter. You only need seven ingredients and three hours of mostly hands-off time to make this delicious yeast bread.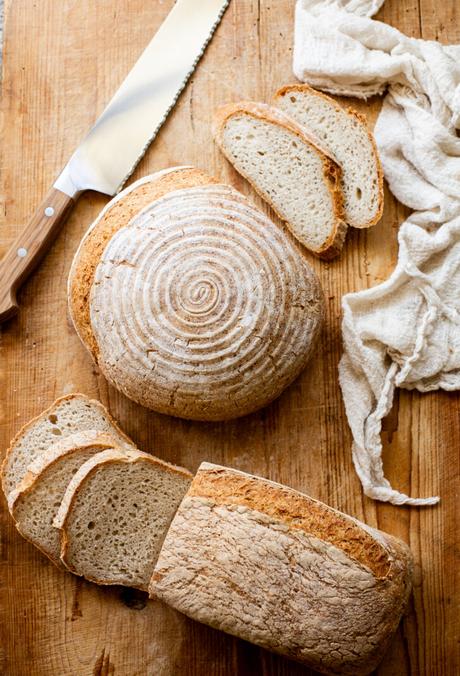 Meet my new favorite gluten-free bread recipe! That's a big statement since I adore all of my gluten-free bread babies. The classic yeasted gluten-free bread loaf has been a staple in my kitchen for a while and I love its ease. The gluten-free sourdough was my first bread love, but it can take a while to make from start to finish and sometimes I'm impatient.
This new gluten-free yeast bread marries the two: it uses yogurt and apple cider vinegar to give a tanginess to the loaf that's reminiscent of sourdough bread, but it's raised with instant yeast, so it only takes less than three hours from start to finish.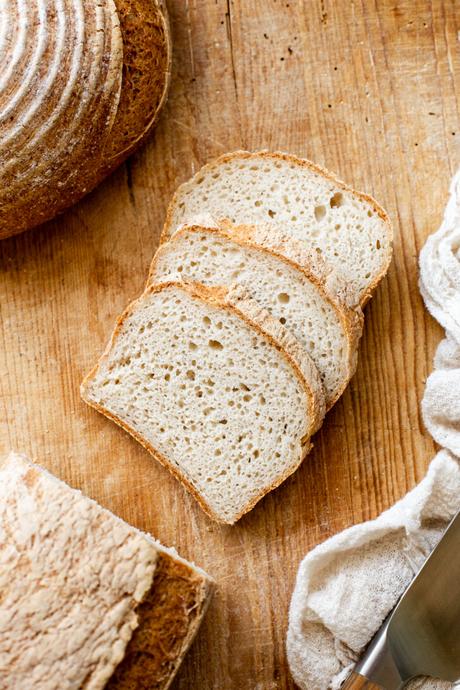 Why you'll love this easy gluten-free bread:
Only need seven ingredients
It's gluten-free and vegan
Made with instant yeast
Only needs to rise for one hour
Soft, tender & tangy - without the sourdough starter!
Ready in less than three hours
Ingredients to make Yeasted Gluten-Free Yogurt Bread
A note: I don't share any volume measurements for this bread, because I find it's so much easier and more accurate to use weight. Please get a baking scale if you'll be doing bread baking with any kind of regularity - it will make things much easier and more accurate! Plus, less messy measuring cups :)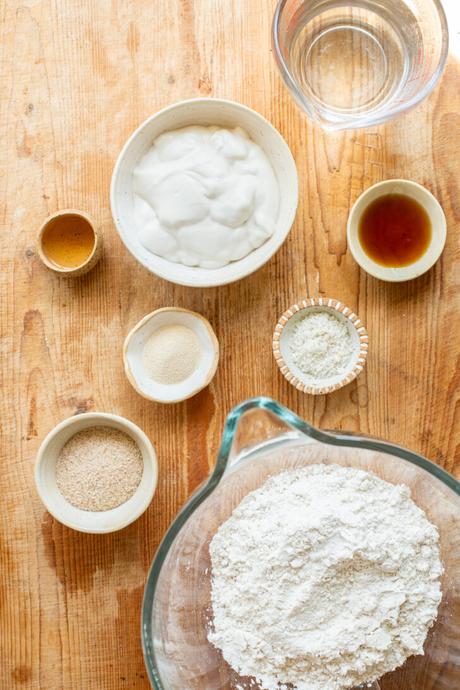 Psyllium Husk: this is the thickener and "gluten" substitute for this bread loaf. Read all about psyllium husk here.
Sweetener: I like using raw cane sugar or maple syrup.
Hot Water: the hot water helps activate the yeast. Use filtered if you can.
Unsweetened Yogurt: since I'm dairy-free/vegan, I always use unsweetened dairy-free yogurt.
Apple Cider Vinegar: this adds a tangy flavor to the bread and can help with the rise.
Gluten-Free Bread Flour Blend: read more below about my favorite gluten-free bread flour blend.
Sea Salt: for flavor!
Instant Yeast: I like using instant yeast because it removes the step of activating yeast and makes this super quick and easy to make!
What's the difference between active dry yeast and instant yeast? Active dry yeast must be activated by warm water before use, usually along with some kind of sugar to help feed the yeast and get it nice and bubbly. Instant yeast is mixed directly into the dry ingredients and is activated when the dough is mixed together. I find it easier to troubleshoot with active dry yeast because if your instant yeast doesn't activate, you need to restart the whole recipe.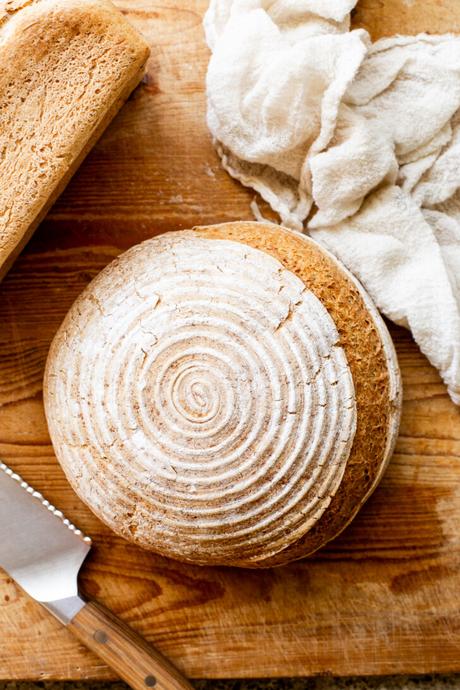 What's the best gluten-free bread flour to use?
I always use my homemade gluten-free bread flour blend for this recipe and it works fantastically.
The only other pre-mixed flour blend I've tried is this multi-blend flour from Vitacost, which is made with similar ingredients to my homemade blend and makes for a delicious fluffy bread.
I have not tested this recipe with any blends that incorporate xantham gum or guar gum, so I can't say how blends that add those gums would affect the recipe. Experiment as you please, but I can't make any guarantees beyond these two blends.
To make your own gluten-free flour mix for this loaf, you can use about 40% starches (like potato starch, corn starch, arrowroot starch, and/or tapioca starch) to 60% whole grain gluten-free flours (like brown rice flour, oat flour, white rice flour, sorghum flour, millet flour teff flour, or buckwheat flour). Each has its own properties and flavors, but it can be super fun to experiment here and see which combination makes for your favorite loaf.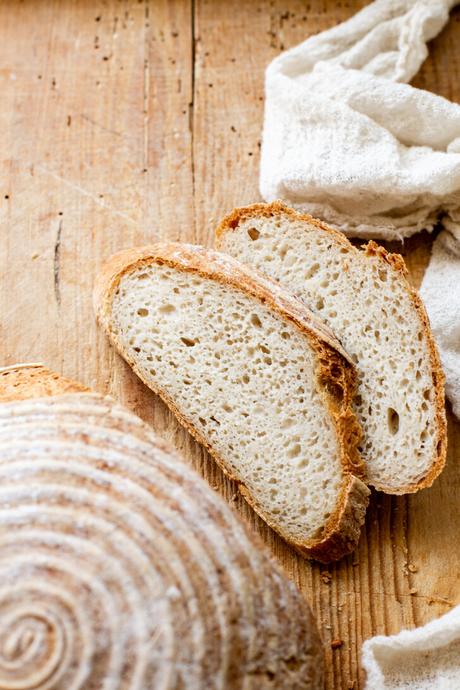 What is psyllium husk? Do I need it?
You can read all about psyllium husk here! But, the short answer is, the psyllium husk is the fibrous husk of a seed, and when combined with water, it creates a thick gel. The psyllium gel helps make your gluten-free bread dough easier to handle and shape.
From my experiments: you need psyllium husk for good gluten-free bread. It is necessary for this recipe and almost all of my gluten-free bread recipes. I don't recommend skipping it or replacing it with anything else. It makes the dough workable, so it doesn't squish all over the place. It's also what makes your bread chewy and stretchy.
NOTE: psyllium husk and psyllium husk powder are different. You want the full husk. I usually find it in the supplement area of most grocery stores, and you can also find it for sale online.
This recipe uses yogurt - can it be made dairy-free/vegan?
YES! In fact, I'm dairy-free, so all of my tests use dairy-free yogurt. I tested this with both cashew yogurt and coconut yogurt, and both were delicious. I'm sure regular dairy yogurt will also work great. Just be sure to use an unsweetened/unflavored yogurt (unless you want to use the yogurt as a flavoring agent).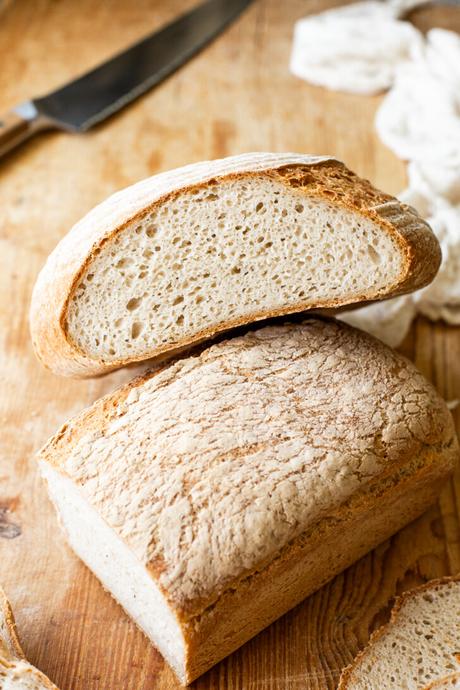 Making gluten-free bread with yogurt
Make the psyllium gel. Mix together the psyllium husk, sweetener, yogurt, apple cider vinegar, and water. Whisk and let it set for a few minutes until thickened and gel-like.
Mix together your dry ingredients. In a large mixing bowl or the bowl of a stand mixer, whisk together the gluten-free flour blend, instant yeast, and salt. Whisk to combine.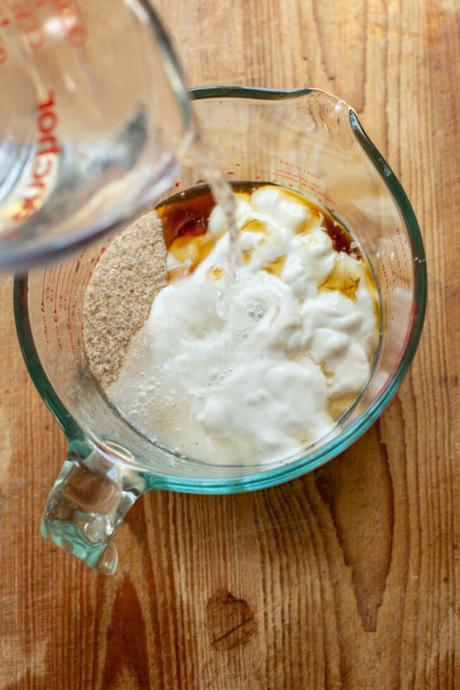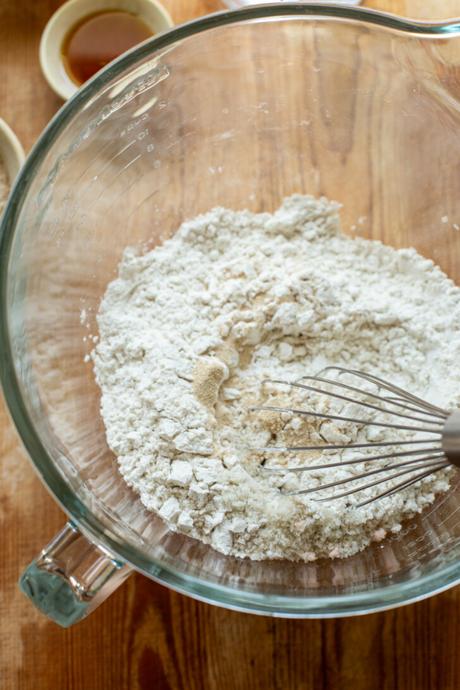 Combine everything and form into a dough. I mix everything in my stand mixer with the dough hook, but you can also do this by hand. If mixing by hand, I like to use a dough whisk to get it combined. Then, turn it out onto the countertop and use my hands to knead the rest of the flour in.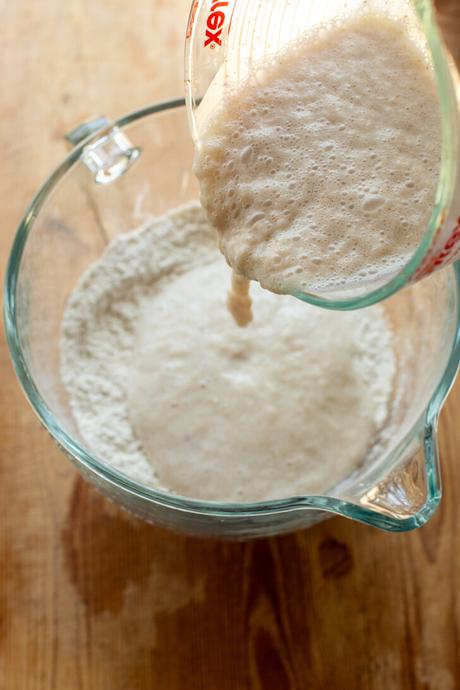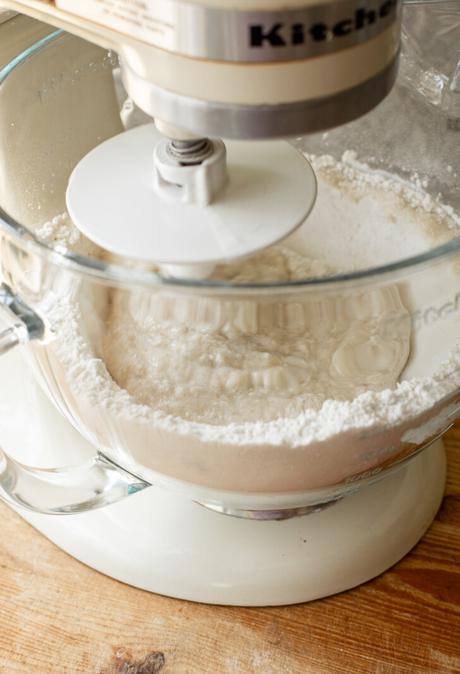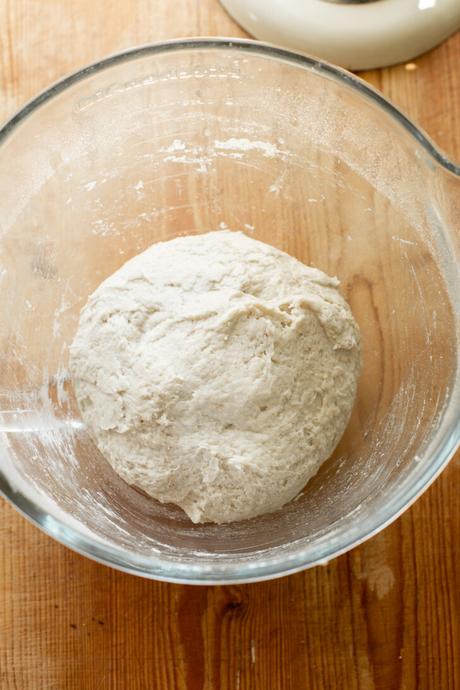 Knead and shape the dough. Use your hands to knead the dough into your desired shape/shapes. Then, you'll place it in the or loaf pan for the proof.
Rise, score, and bake! Let the loaf rise for one hour, or until it's light and puffy to the touch, and preheat the oven to 425℉ while it rises. Once the bread has risen, score it with a knife or lame (flipping it out of the banneton onto parchment, or a silicone sling if baking in a Dutch oven). Then, place it into your baking vessel. Bake for 1 hour and 20 minutes, removing the lid for the last 20 if baking in a Dutch oven.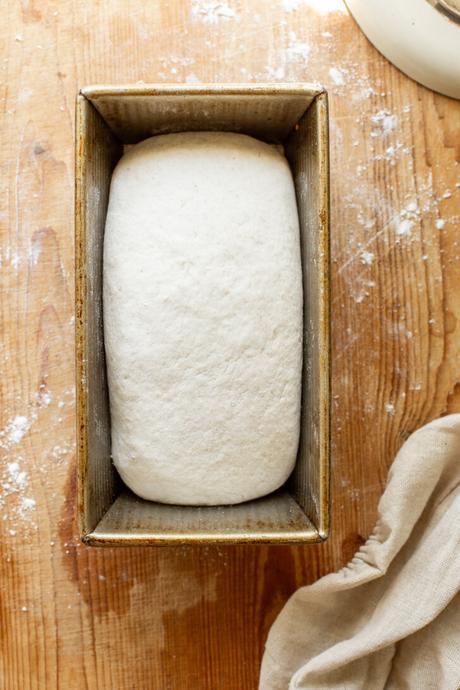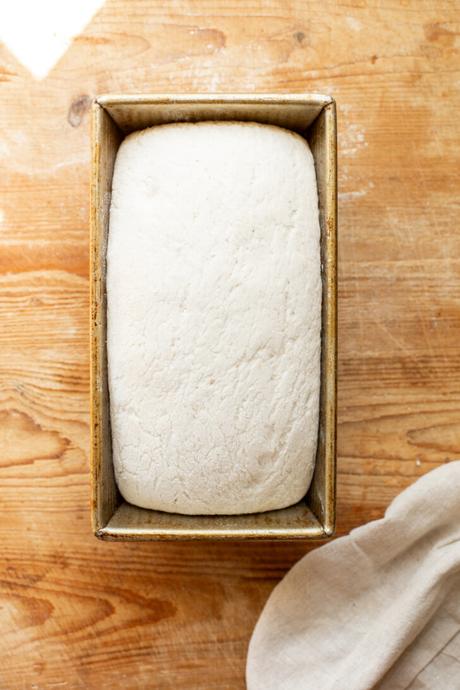 Remove from the baking pan. Turn the oven off, place the loaf directly on the oven rack, and prop the oven door open. I usually use a wooden spoon for this. Let the bread start to cool inside of the oven for 30 minutes to 1 hour. This helps to finish cooking off any gumminess inside of the loaf.
Cool completely. This is definitely the hardest part, but you really need to let the loaf cool completely so the inside can set. I usually try to let it cool overnight. You definitely want it to be fully cool to the touch before cutting into your loaf. Then... slice and eat! Definitely the best part :)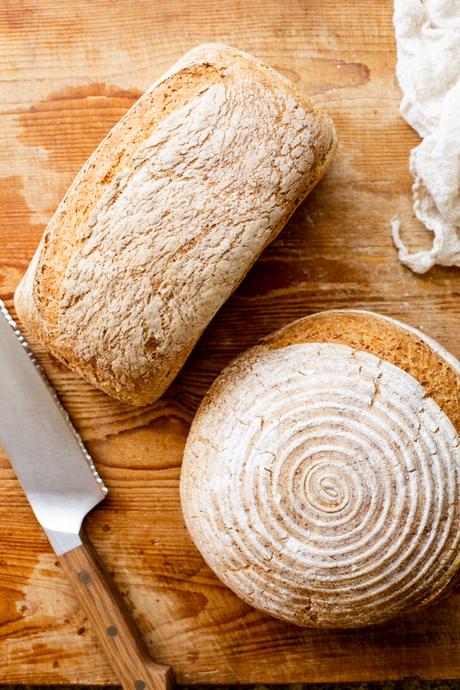 How to store gluten-free bread
At room temperature: You can also keep it in a bag or container at room temperature for up to 3 days. The bread will start drying out by day 3 or 4, so I recommend freezing it by then.
In the refrigerator: place into an airtight bag for up to 1 week.
In the freezer: I like to slice the whole loaf and keep it in the freezer. It will store well for up to 6 months. Place sheets of parchment between each slice to prevent them from sticking together.
To reheat from frozen: microwave the bread slices for 30-60 seconds or place in the oven at 350F for 5 minutes, or until you've reached your desired level of toastiness.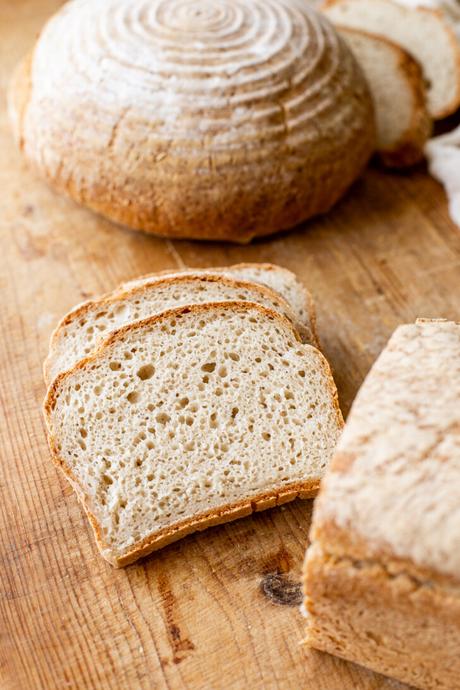 More gluten-free yeast bread recipes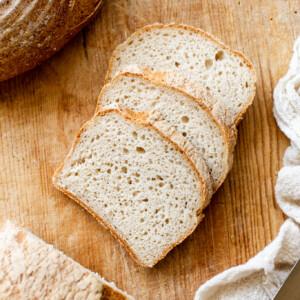 Gluten-Free Bread with Yogurt