This post may contain affiliate links. Please read my disclosure.
This homemade gluten free bread recipe is healthy, easy to make, and has a soft chewy texture! It's easy to slice and is keto-friendly as well!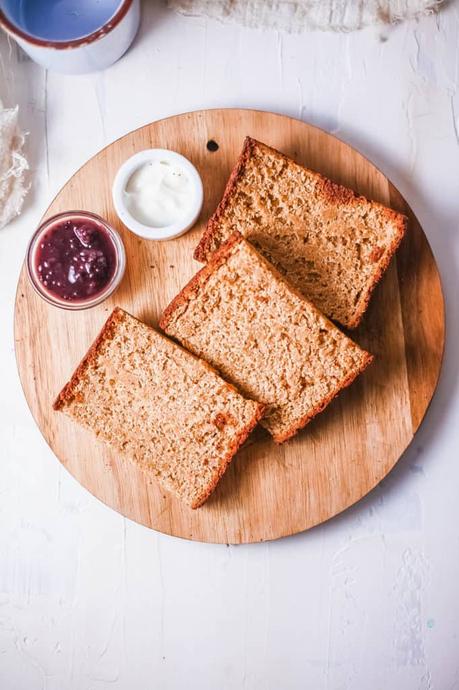 This keto-friendly, gluten free bread is so versatile - you can use it for sandwiches, grilled cheese, bread pudding, french toast, making croutons - pretty much everything!
Typically, I don't recommend eating gluten-free bread unless you have a diagnosed gluten allergy. This is because most store-bought gluten free bread has a ton of additives and more processed starches to make up for the fact that it can't use wheat or wheat based ingredients (rye, barley, etc). This results in a bread that's higher in refined carbs and sugar, and low in fiber, protein and other nutrients.
Which is why I am SUPER excited about this gluten free bread recipe, which not only tastes great but is also really great for you!
Tools and Equipment You'll Need
How To Make Gluten Free Bread - Step By Step
Step 1: Place all the ingredients in a bowl. Beat at medium-high speed for 5 minutes.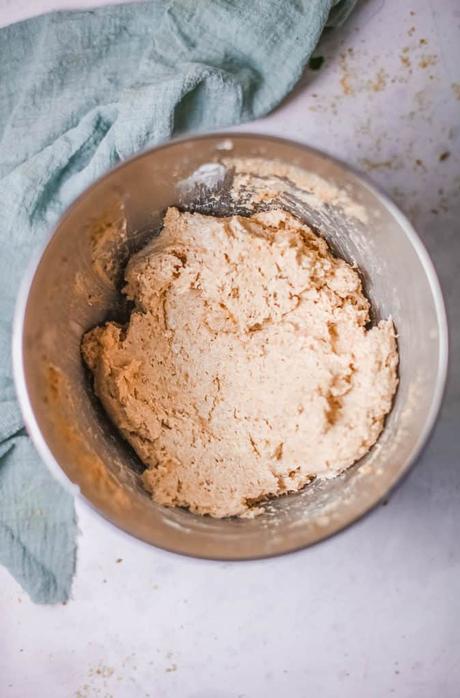 Step 2: Line a baking pan with parchment paper. Transfer the dough to the prepared pan and with the help of a spatula even out the top.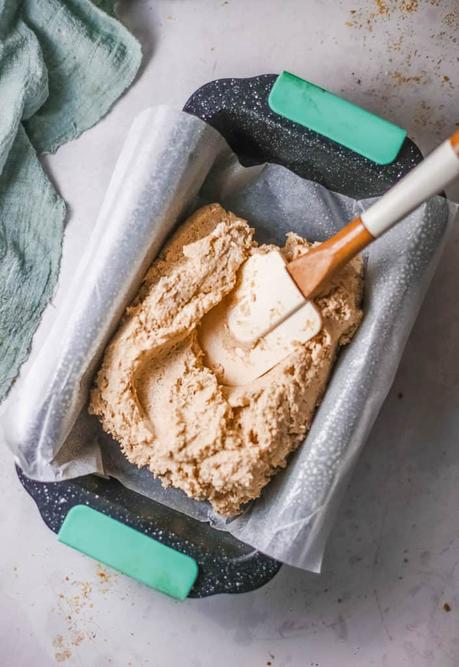 Step 3: Cover with a cloth and let it rise in a warm spot for 1 hour.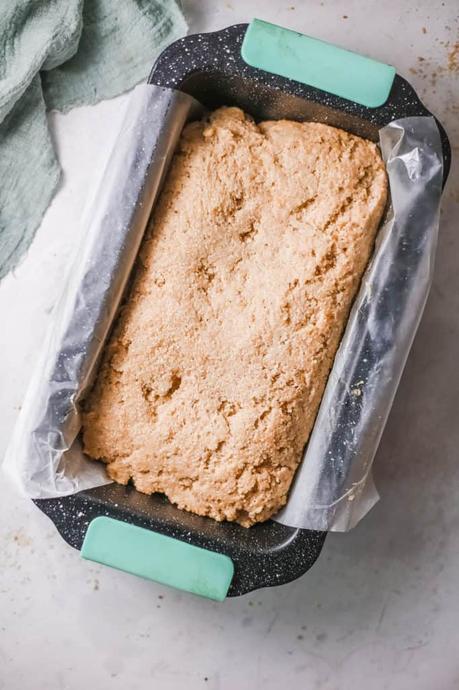 Step 4: Meanwhile preheat the oven to 350 degrees. Take the pan to the oven and bake for 45 to 50 minutes or until done.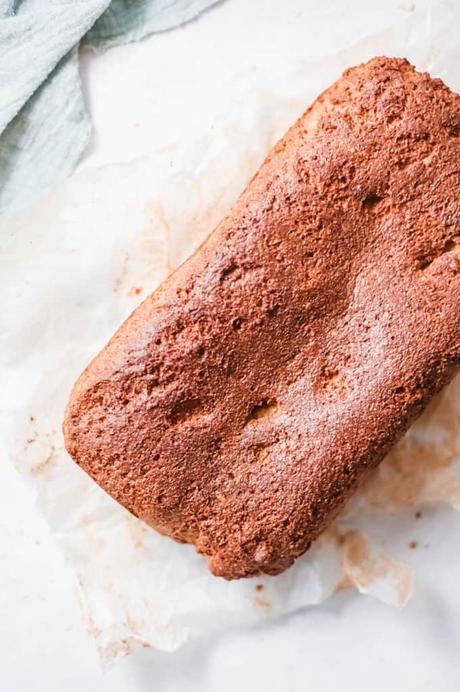 Step 5: Let it cool down completely before slicing.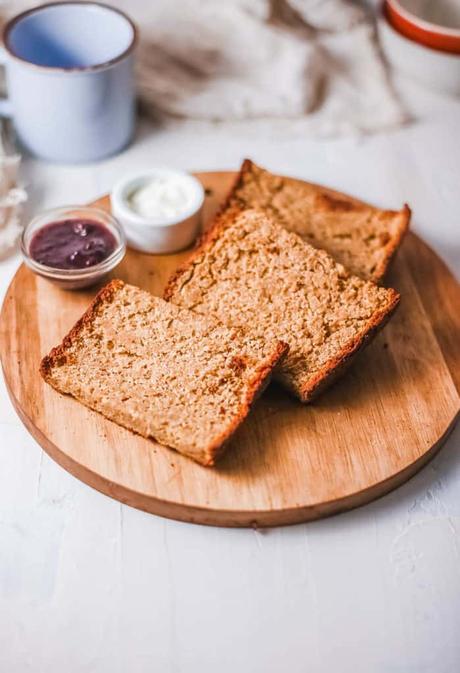 What Makes This Gluten Free Bread Recipe Healthy?
High in Fiber: One slice of this bread has almost 5g fiber, thanks to the almond meal and flaxseeds. That's more than double the amount in typical gluten free breads! If you're making a sandwich, you'll get 10g fiber in your meal just from the bread - 40% of your daily fiber needs!
High in Protein: Each slice of bread has 5g protein. This is great if you're trying to remain plant-based but still want to make sure you're getting enough protein.
Low in Sugar: Less than 1g sugar in each slice of bread means it's keto-friendly and guilt-free!
Low in Carbs: Each slice of bread has under 7g carbs!
Will Kids Enjoy This Gluten Free Bread?
Despite the fact that this isn't a traditional bread recipe, my kids loved this bread. They enjoyed it with some butter and jam for an afternoon snack - but I think they would be happy eating this as part of a peanut butter sandwich or just about anytime of the day!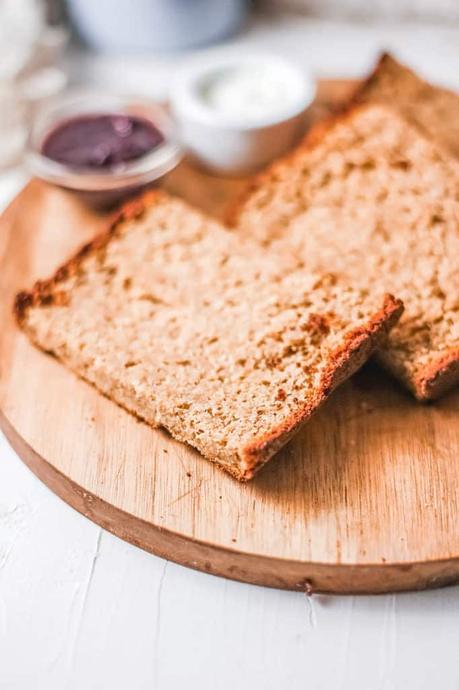 Gluten Free Flours That Are Best for Making Bread
If you want to switch up the flours in this recipe here are some other gluten free flours that work well for baking bread:
Buckwheat flour
Sorghum flour
Millet flour
Bob's Red Mill 1:1 Gluten-Free Flour Blend
Oat flour
Is Yeast Gluten Free?
Most yeast is gluten-free, but a couple types of yeast are not. The two types of yeast that likely contain gluten are brewer's yeast and yeast extract. But these two types of yeast aren't used for baking. The most common types of yeast used for baking (baker's yeast, dry yeast, instant yeast) are all gluten-free.
How to Store and freeze this bread
You can easily store and freeze this bread if you want to make it in bulk in advance and use it for months.
To store: Once the bread has cooled, slice it and wrap it tightly in plastic wrap, then wrap it in foil.
To freeze: Put the wrapped loaf in an airtight freezer bag or container. The bread will last in the freezer for up to 3 months. Defrost the bread in the fridge before use, and then heat in a toaster oven or regular oven.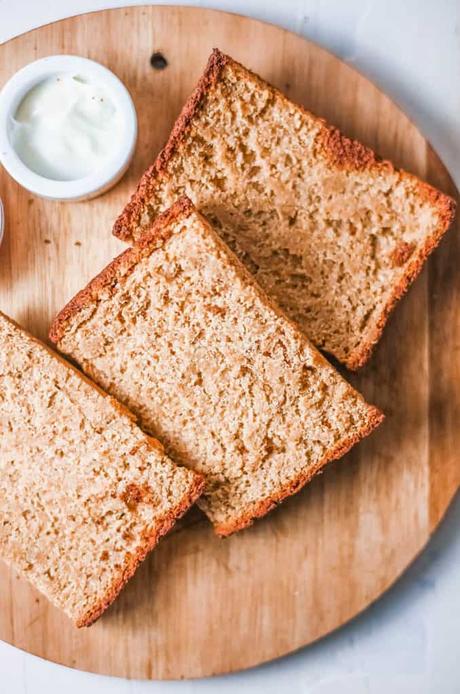 Top Tips For Making Gluten Free Bread
Make sure you line your loaf pan with parchment paper and then spray it with oil, this will help make sure the bread doesn't stick and is easy to remove from the pan. The narrower your bread pan, the taller your bread will be. I used a 12×4 inch pan for this recipe.
Psyllium husk is a MUST for this recipe. The bread won't rise if you don't add it. You can sub it for flaxseed meal, but keep in mind - the bread will be much more dense.
If you don't have ghee, you can use butter or coconut oil - all three of them work just as well!
You can substitute the full fat sour cream for plain Greek yogurt or for coconut cream + 1 Tbsp apple cider vinegar.
Ingredients at room temperature work best in this recipe.
Make sure your water is between 95-110 degrees before mixing it with the yeast and other ingredients.
When you're measuring out your almond meal and flaxseed, spoon both into your measuring cup and then level. That will ensure you don't end up with too much flour and your bread won't be overly dense.
CHECK OUT THESE OTHER DELICIOUS Gluten-Free Recipes!
If you have tried this gluten free bread recipe, or any other recipe on my blog, then please rate it and let me know how it turned out in the comments below! You can also FOLLOW ME on
FACEBOOK
,
TWITTER
, INSTAGRAM and
PINTEREST
to see more delicious, healthy, family friendly food!
Gluten Free Bread Recipe