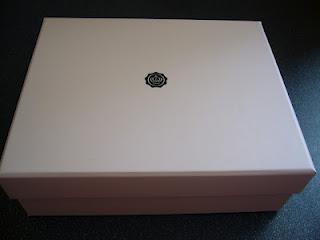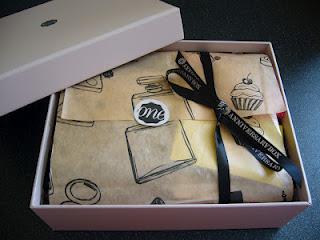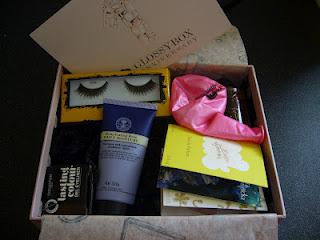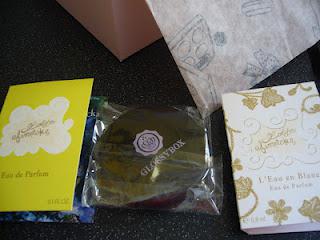 (Lolita Lempicka L'eau en Blanc & Eau de Parfum and GlossyBox mirror)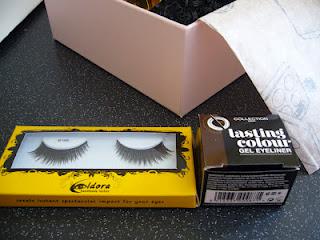 (Eldora false lashes and Collection 2000 gel liner Brown)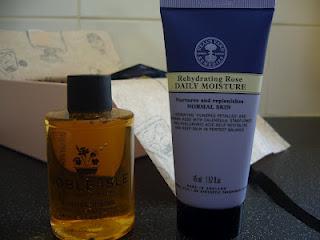 (Noble Isle bath + shower gel and Neal's yard remedies daily moisture cream)
What is GlossyBox, for those of you who many not know?

GlossyBox is a monthly subscription service, which can be cancelled in between each month, for £10 and p+p.  You will receive about 5 luxury beauty samples, sometimes a few being full sized. 
This is actually my first time receiving the GlossyBox because I had been debating for a long while before whether or not I should invest.  It is excellent value for money and I think that is one of the more appealing things about it.  This month is meant to be a special box as it is their one year anniversary, which explains the balloon.  I was very impressed with my first box and wouldn't complain as I'm really eager to try out the gel liner.  However when I heard that some boxes included HD Brows products, I was slightly disappointed.  Saying this, I would definitely carry this on in the future.
Pricing (items that are samples in the box, full sized prices are shown)

Noble Isle bath & shower gel full size : £20Lolita Lempicka perfumes full size : £65 eachNeal's yard remedies lotion : £12Collection 2000 gel liner : £4.99Eldora false lashes : from £3.90