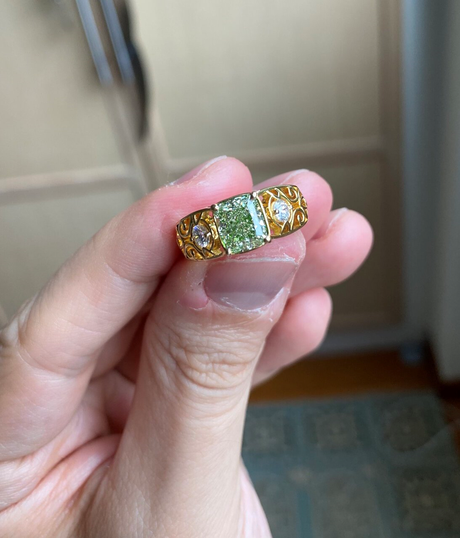 Jewelry is evocative, that is a large part of its allure. Not every piece evokes the same meaning to each viewer, however. This glorious green diamond ring that Mewing posted, has been selected to be the Jewel of the Week. When I look at it, I find myself transported into an idyllic fantasy, perhaps a fairy glen.
It is always super gratifying for us when people talk about how much PriceScope has helped them navigate the jewelry world. It seems that Mewing has revisited PriceScope each time they were on the path to purchase a new jewelry piece! This time was an oddity, there was less specific information about green diamonds among PriceScopers. The best thing about this community is that now Mewing is a knowledge source for green diamonds when the next person is looking, and after seeing this, others may start looking! What a great post this has become too, there is more information already for people that are looking for fancy colored diamonds and how to understand the colors of them. Though getting your diamonds appraised is always a great idea.
The color combination is divine, I am completely in love with it. I hope that Mewing loves this ring for the rest of her life, congratulations on your new acquisition! May this be worn in love, health, wealth, and happiness.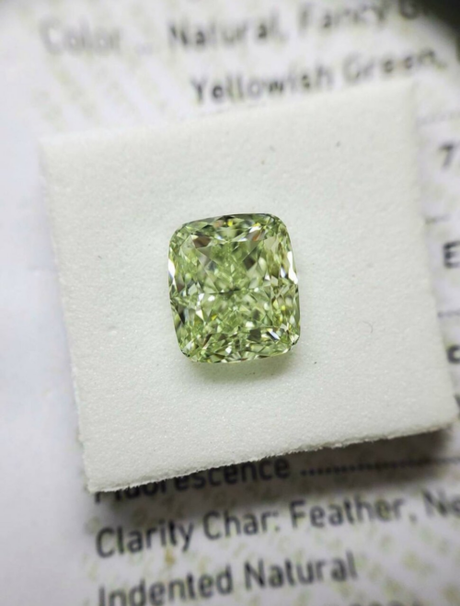 The Stats:

Natural Green Diamond
Carat Weight: 2.03
Measurements: 7.23 x 6.36 x 4.65mm
Clarity: VS2
Certification: GIA, Certified Natural
Colour: Fancy Greyish Yellowish Green
Colour Distribution: Even
Fluorescence: None
Visit the original post and join me in congratulating Mewing! Maybe if we all ask nicely, we can get more pics! 😉
The Jewel of the Week is our chance to feature and appreciate a recently posted piece from the Show Me the Bling Community!
Thank you so much for sharing your jewelry experiences with us. We look forward to seeing more!
Follow this link for more information about Green Diamonds Learn more about Ideal-Scopes on PriceScope!
By Kayti Kawachi