Glorious – Movie Review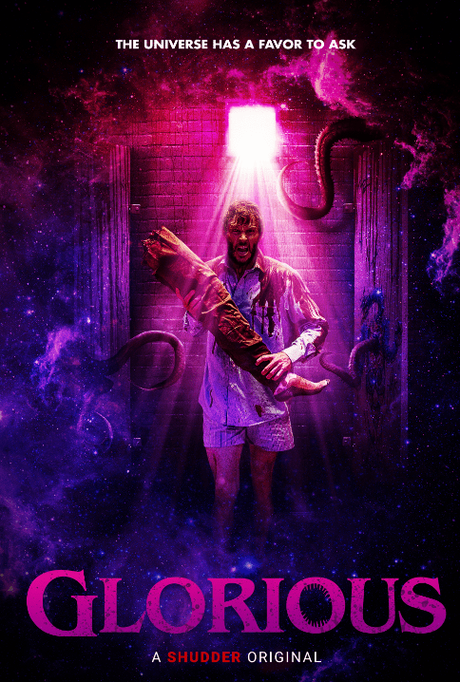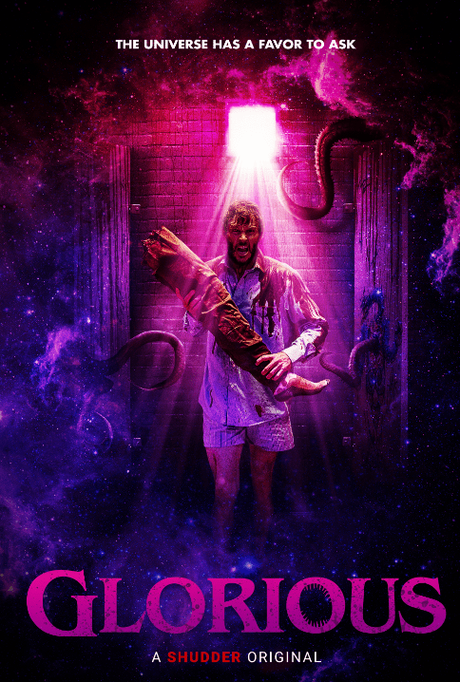 Director: Rebekah McKendry (Psycho Granny)
Writer: Joshua Hull, David Ian McKendry, Todd Rigney (Screenplay)
Cast
Ryan Kwanten (Dead Silence)
J.K. Simmons (Spider-Man No Way Home)
Tordy Clark
Andre Lamar (The Getaway)
Plot: After a breakup, Wes ends up at a remote rest stop. He finds himself locked inside the bathroom with a mysterious figure speaking from an adjacent stall. Soon Wes realizes he is involved in a situation more terrible than he could imagine.
Runtime: 1 Hour 19 Minutes
There may be spoilers in the rest of the review
Story: Glorious starts when a heartbroken Wes (Kwanten) parks up at a remote rest stop. Having a few drinks, a cry and a reflective moment in life, he heads into the bathroom. As he goes about his business, he strikes up a conversation with a voice in the cubical next to him.
As the conversation continues, Wes learns he is talking to a God that is waiting for something. God needs Wes to help him stop devastation on Earth, in a battle against evil. Testing Wes as to how far he will go to save his loved ones.
Verdict on Glorious
Characters
Wes is a heartbroken man, traveling across the country stopping at a remote rest stop. Taking too many drinks he passes out in the restroom. He is awoken by a voice claiming to be a God, sending him down a path where he must face his own reality. This is a character that has too much on his mind, that has taken down this path.
The voice claims to be a God promising to save the world, but it needs Wes to help him. It is an all-knowing being that demands that Wes follows its orders.
Performances
Ryan Kwanten must take most of the film on with his performance. He is talking to a voice while showing the fear and uncertainty he is going through.
Story
The story follows a heartbroken man that finds himself trapped in a rest-stop bathroom with a voice claiming to be a God. He is being forced to complete a task that could save humanity but doesn't know whether to believe the voice.
This is a story that will offer up a bigger question about God's position in the world. Where it will test someone into believing it is what he is expecting to be. It will give us a reflective story about a broken relationship between Wes and his former love.
Themes
Glorious is a contained horror movie taking place mostly within a rest-stop bathroom. The horror comes from the unknown about what is in the stall and once we see what is in the stall, we get a new level of horror. Nothing is held back when it comes to the blood-soaked side of the film.
Where to Watch: Glorious is available on Shudder on the 18th of August 2022.
Final Thoughts – Glorious is a bloody and contemplative movie.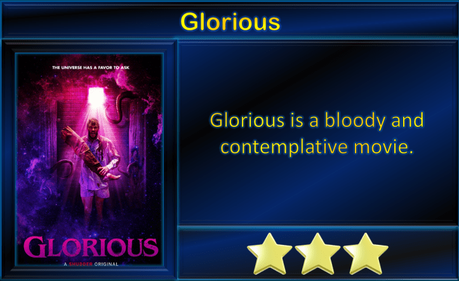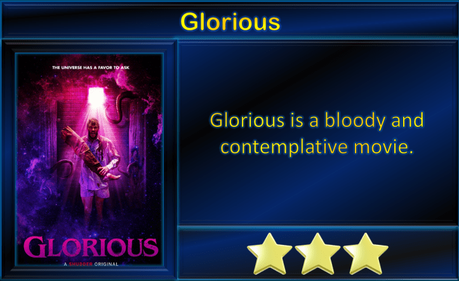 report this ad