Globe Telecom tweets today about another "thing" to be launched during the iPhone 5 launching on Friday, Dec. 12. At least two replies to their tweets ahead of me, answered iPad Mini. I also answered iPad Mini with "99.99%" sure of my answer.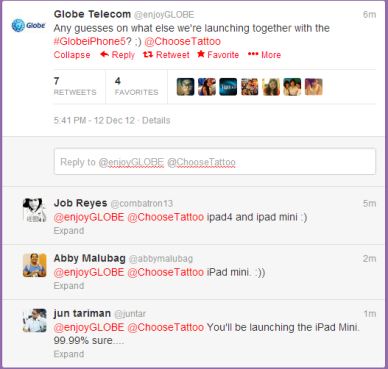 I say this because i witnessed Globe awarded an iPad Mini to a lucky winner during the raffle at the Kickstart Startup Mixer more than a week ago. In other words, more or less Globe has already the iPad Mini units ready for distribution. The iPad Mini hasn't yet officially introduced in the Philippines though several units are already available up for sale in the gray market while some online retailers are already accepting reservations and pre-orders.
We'll find out on the launch date on Friday if indeed it will be the iPad Mini that Globe will also introduce to the public aside from the iPhone 5.