It's not new. Definitely not the first time that PLDT and Globe are blaming each other for its disservice to the Filipino people.
On Tuesday, Feb. 2, 2013 Globe issued a pubic advisory explaining the "multiple outages on local interconnection" in Northern Luzon and blamed PLDT for it.
"As a result, Globe landline customers will not be able to make local calls to PLDT in the following areas: La Union, Baguio, Tarlac, Bulacan, Pampanga, and Nueva Ecija."
Globe issued another statement on Feb. 28 explaining the circumstances leading to their public advisory.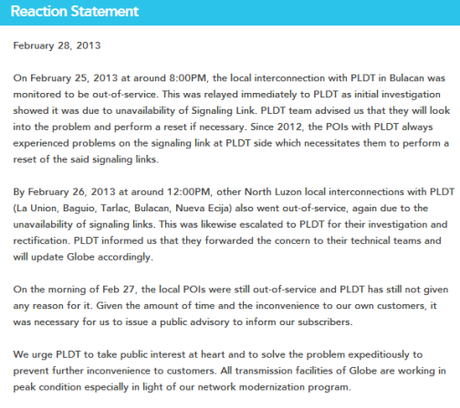 Today, PLDT throw back the blame for the outages to Globe saying,
…the problem actually came from a fiber optic cable (FOC) break in Globe's transmission network in F. Manalo corner Blumentritt Street in San Juan, Metro Manila, just 6 kilometers away from the PLDT Sampaloc office which houses PLDT's interconnection facilities for landline operators such as Globe, Bayantel and Digitel.
Here's a portion of PLDT's official statement responding Globe's reaction statement above.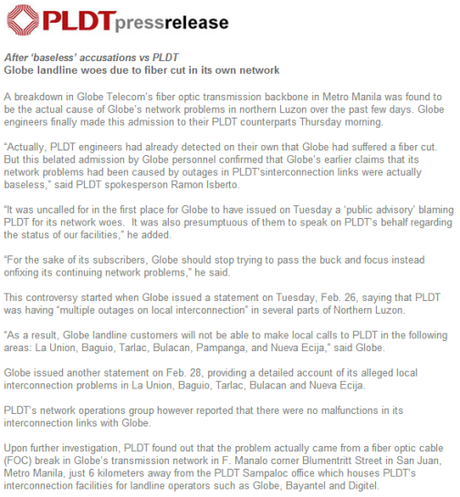 This "volley-bullying" in public by the two telcos compensates the ineptness of the National Telecommunications Commission to safeguard the subscriber's interest. I would rather want this setting for the two telcos watching their backs rather than leaving the responsibility of finding out the culprit of an outage to the NTC.
NTC has the record of never accomplishing its mandate. It's a little lesser than an inutile government agency.