news , information,business,investment,helth
 news,business,politics news and information
It is important to examine, identify and manage global issues in formulating, implementing, and evaluating strategies.
Special topics include business culture, business climate, labor unions, protectionism, tax rate variation, and management style variation across countries.
Communication and business practices vary across countries so that strategic planning can be modified to make it more effective.
Chapter 7 includes::
1.   Discuss the nature and implications of labor union membership across Europe.
2.   Discuss income tax rates and practices across countries.
3.   Explain the advantages and disadvantages of entering global markets.
4.   Discuss protectionism as it impacts the world economy.
5.   Explain when and why a firm (or industry) may need to become more or less global in nature to compete.
6.   Discuss the global challenge facing U.S. firms.
7.   Compare and contrast business culture in the United States with many other countries.
8.   Describe how management style varies globally.
9.   Discuss communication differences across countries.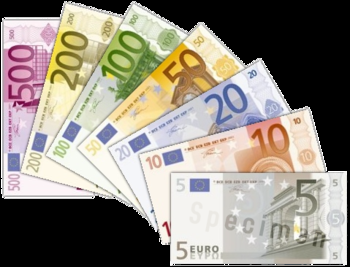 English: Various Euro bills. (Photo credit: Wikipedia)
To learn more about culture and how it impacts business in various countries, go to http://www.worldbusinessculture.com/
What are the advantages and disadvantages of initiating export operations in a foreign country?
In conclusion, language, cultural, and value systems differ among countries, as do the number and nature of competitors.  There are also different currencies, tariffs, laws, taxes, regulations, suppliers, distributors, monetary policies, and infrastructure.
Strategic management is more complex in a multinational firm for the following reasons: 1) risk of expropriation of assets, 2) potential for currency losses through exchange rate fluctuations, 3) possibility of unfavorable foreign court interpretations of contracts and agreements, 4) social/political disturbances, 5) import/export restrictions, 6) tariffs, and 7) trade barriers.
 Look at this website to analyze business culture in different countries: http://www.kwintessential.co.uk/tools/resources/country-profiles.html
Social etiquette and customs
Meeting and greeting
Mixing between genders
Names and titles
Gift-giving etiquette
Dining etiquette
Business etiquette and customs
The relationship
Business cards
What to wear
Business meetings
Negotiating