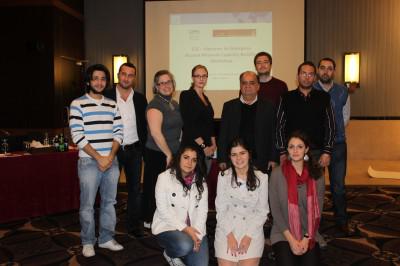 DPNA E2E Alumni Network Steering Committee Training
There's a spice blend used throughout the Middle East – za'atar– which is bold, assertive, and unique in flavor. As we witnessed over the last week in Lebanon, those same adjectives might be a way to describe Lebanese entrepreneurs and the flair with which Global Entrepreneurship Week (GEW) is being celebrated here.
At the launch of GEW at the American University of Beirut earlier this week, event emcee and program director Dr. Tony Feghali, co-director of the Darwazah Center for Innovation Management and Entrepreneurship, stood before a raucous crowd of several hundred students, entrepreneurs, venture capital partners, and non-governmental organizations gathered to discuss why "Lebanon is an Excellent Place to Start a Business."
The evening began with a quick study on the characteristics of Lebanese entrepreneurs today. Fifteen entrepreneurs were asked to come forward to the stage.  Dr. Feghali explained that even if 10 of the 15 might fail in their initial foray into business, most of those 10 would persevere and continue to try to ideas, showing a determination typical of the entrepreneurial class. He reminded the audience that for each one entrepreneur, five jobs are usually created. A potential 75 new jobs – crucial for rebuilding Lebanon – were represented on the stage.
A later panel of five entrepreneurs brought forth very pointed advice and opinions and further evidence of the strength of entrepreneurs.
-   One panelist noted that in 2006, a Google search of "technology Lebanon" yielded no search results. Entrepreneurs left the country because they were not supported. Five years on, though, the tide has changed.  He said while it is "practically damn impossible to be an entrepreneur, you can never, never, never give up." This relentlessly positive attitude typifies many entrepreneurs.
-   Another panelist noted: "Failure is what's going to make you succeed." Failure is often a necessary and positive part of entrepreneurship, allowing serial entrepreneurs to refine their approach and ideas.
-   When asked by a member of the audience if there's an appropriate age or time to begin a business, panelists resoundingly agreed that it is never too early. "You will not regret failing now." Failure is not a result to be feared; instead it is an opportunity for growth.
Increasingly the brain drain has reversed and more young Lebanese are returning home to open a business in their homeland. Mentorship and education institutions now exist and are ready to assist aspiring entrepreneurs. And, perhaps most importantly, capital is more readily accessible, especially from venture firms. That said, while there are many positive trends in the Lebanese entrepreneurial ecosystem, one looming constraint is the unresponsive regulatory environment – from long, unexplainable delays in registering a business, an arcane banking system, the prevalence of having to pay bribes and, in a high tech-focused market, a lack of technological infrastructure. CIPE's partners in the country continue to work to build the institutions necessary to support a thriving entrepreneurial sector.
CIPE's local Lebanese partner the Development for People and Nature Association (DPNA) participated in the next event of the evening – a 60-second pitch competition for more than 20 local organizations to present succinctly their purpose and describe how they are contributing to the new entrepreneurial spirit and market in Lebanon.  Rami Shamma, project manager at DPNA, spoke of the business plan competition his organization has recently launched for high school students across Lebanon. One of the most effective tools to foster a spirit of entrepreneurship in a country is to enlist the nascent skill and unbounded enthusiasm of young people. Shamma's enthusiasm and the spirit of the entire evening were indicative of the shift in generational attitudes from negative to positive about doing business in Lebanon by working diligently, creatively, and with entrepreneurial zest for a new business environment.
CIPE Communications Director Caroline Scullin contributed to this report.