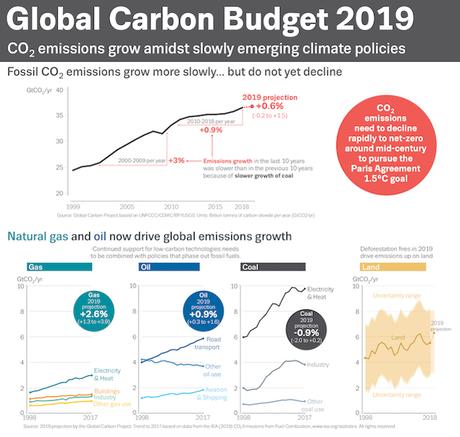 The chart above is from the Global Carbon Budget by the Global Carbon Project.
It shows that a disturbing trend continues. Worldwide carbon emissions (CO2) rose again in 2019, and is again at a record level. The rise was lower than in recent years (2019 - 0.6%, 2018 - 2.1%, 2017 - 1.5%), but that still means climate change is getting worse -- not better. We need a significant reduction in CO2 emissions -- not a slower increase.
Coal is still the worst in producing these emissions, but it actually decreased by 0.9% in 2019. Oil increased by 0.9% and gas increased by 2.6%.
In the Paris Accords, the nations of the world agreed to reduce the emissions causing global warming. This new report shows they are not yet doing that. It could well be because the United States announced it was withdrawing from the agreement, and did away with a lot of its environmental regulations. When the United States (one of the worst offenders) won't reduce its emissions, that encourages other nations to follow suit.