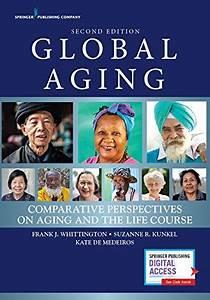 Published 13 December 2019.
I earlier this year, I selected Springer's
Global Aging
textbook in order to teach a class on global aging for Fall 2021. This 414 page book contains a lot of information about aging by using examples from dozens of countries. 
Here is the Table of Contents: 
Our Aging World 
The Study of Global Aging 
Demographic Perspectives on an Aging World 
Aging Environments 
Health Patterns and Behavior 
Health Care Systems 
Long-Term Services and Supports 
Older Workers 
Retirement and Pensions 
Families 
Caregiving 
World Religions and Aging 
Global Aging and Global Leadership
Additionally, each chapter concludes with one or two essays that are--for the more part--focused specifically on one country. 
Many of the end-of-chapter essay authors are sociology / gerontology faculty at Miami University in Oxford Ohio. However, more than half of the contributors come from other parts of the US or even beyond the US (Canada, Brazil, UK, Germany, Malta, Romania, Kenya). 
For example, at the end of the chapter on demographics, there is an essay about the shifting demographics (lower fertility rate, higher longevity) in Iran. And at the end of the chapter on aging environments, there is a chapter on the change in family structure in Malta (nontraditional households). 
The three textbook authors draw on research from even more countries than that in the main discussion for each chapter. Much of the data they use was published in the 21st Century, so it is fairly current. 
The second edition of 
Global Aging: Comparative Perspectives on Aging and the Life Course
 has a 2021 copyright date. Nevertheless, I expect Springer publishing will encourage the authors (Frank J. Whittington, Suzanne R. Kunkel and Kate de Medeiros) to issue a third edition much more quickly than the 7 years between the 2014 first edition and this second one. 
To any alert person, it is evident that the COVID-19 pandemic is reshaping many elements across the globe. Because age is a high-risk factor, many sections of this textbook have already been transformed.  The book does have significant information about the effects of the HIV / AIDS, particularly as it continues to contribute to older adults raising children in African countries dramatically effected by HIV / AIDS.  I can only imagine how prevelant SARS-CoV-2 / COVID-19 will be in the third edition. 
Until the third edition is written and published, I will have to add supplemental readings to my syllabus about the impact of COVID-19 on global aging. 
In the mean time, I still found this textbook extremely informative. 
The authors and their additional contributors primarily have university affiliations. They cite scholarly journals as publications from global organizations such as the UN, WHO, and HelpAge International.
They authors demonstrate respect towards developing nations, and point out that there are still areas for improvement in developed nations. They share different criteria that experts use to place nations within typologies (rubrics, taxonomies). For example, they dedicate a lot of space to the way the Organisation for Economic Co-operation and Development describes 30-ish nations for how they fund and provide LTSS aka long-term care (if at all). 
I am using this textbook for a 200 level class, but I will allow my students to take each open book, online quiz twice. And each student will be assigned one country to study throughout the semester so that they can have a little more depth of analysis.  
Even though I have traveled through three continents and read books (fiction and nonfiction) set in dozens of countries, I still gained a lot of new information and a more complex view of several regions, countries, and cultures from across the globe. 

Related: 
WHO Global Aging Report
GERO Screagle (USI) Pride