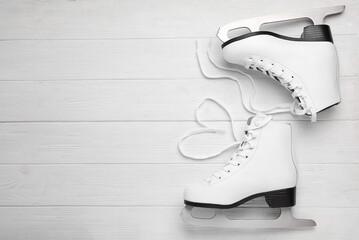 The first time I ever went ice-skating I was twelve years of age.
A neighbor took me, her daughters and my god-brother to Rockefeller Center in Manhattan, New York.
I learned how to ice-skate that evening almost immediately.
The activity on ice was exciting and fun.
Since then, I have been down that area of Rockefeller Center plenty of times passing through but never have I been back to the ice-skating rink.
Far before that time I recall going to a roller-rink with my mother and associates from our neighborhood.
I was a little pro at Roller-Skates on the sidewalk and streets of Queens, New York but at the rink with the strobe-lights and disco music is seemed as if the floors were actually spinning so I stayed on the sidelines and watched my mom skate around the floor with the help of a gentleman who helped to hold her steady on her feet.
Fast forward ahead at the ice-skating rink where my god-brother at the time was gliding in between two friendly girls who helped to hold him on his feet after he had fallen onto the ice a couple of times.
We (my god-brother and I) laughed at the situation as we had a sense of humor that was out of this world.
My puppy got in on the action as she would run to pull me along as I held her leash while on my roller's skates through the streets.
She also loved running beside me as I rode my bicycle up and down the block.