This year I made a flying visit to glee in Birmingham, I did not want to miss it completely but for various reasons my time was short. I worked on the premise that a quick visit was better than none. glee is an enormous (truly enormous) trade show for gardening and pet related products. It is not open to the general public as the aim of the show is for retailers to browse the stands and choose items they want to stock in the coming year.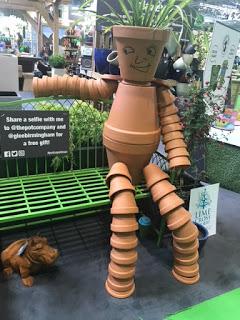 It is always an interesting visit and I love wandering around the stalls. They want to grab your attention as you walk by and I am easy prey for such tactics. This plant-pot man did his job perfectly as he drew me to The Pot Company stand and as a result I spent quite a while looking at what else they had one offer.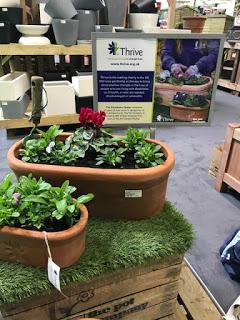 They had these planters that are being sold with 10% of the profits going to Thrive, the UK charity that uses gardening as therapy for people with disabilities, ill health; who are isolated, disadvantaged or vulnerable. I loved the shape of them.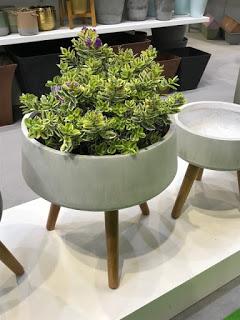 On the Teraplast stall there were these planters with legs. They are very 'in' at the moment and I just love them. They are superbly 60s looking and would show off your indoor houseplants brilliantly.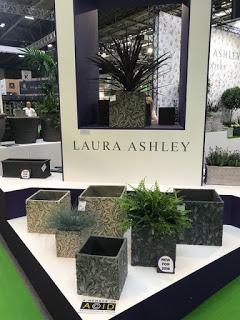 I seem to have spent a lot of time looking at pots, these Laura Ashley ones also caught my eye.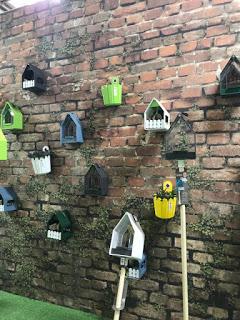 These hanging pots and bird houses also made me stop and pause. They are wonderfully colourful and yes they are plastic. We need to be careful with the amount of plastic that we use; but they will last and look good for a long time. I am not against the use of all plastic that is intended to a long lasting feature. Because I was rushing around a bit I neglected to get the name of the stand - sorry.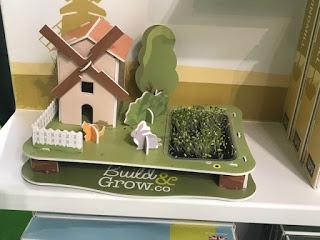 These 'Puzzle Gardens' from Build & Grow.co are just a delight. What a fantastic gift to encourage children to start growing things. There is a range of different puzzles including a volcano, they are such a good idea.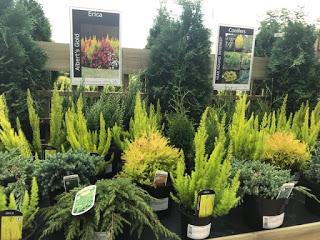 As you would hopefully expect I was very drawn to the plant displays. Put me in front of plants and I immediately relax and get excited at the same time. This one stall is full of small conifers and heathers. I love the colours and how the shapes work together.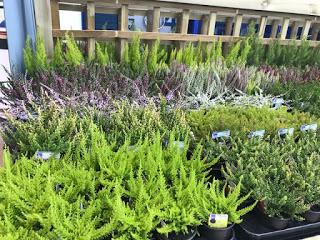 There was also another stall of heathers which made me think of those trays of fluorescent heathers that appear in garden centres around Christmas time. Just look how lovely these natural heathers look, so much better than those bright blue and orange things.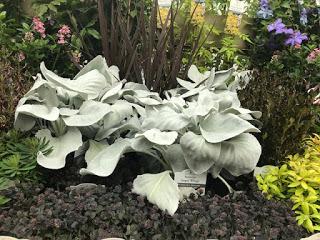 I paused to wave hello to Senecio Angel Wings, a plant I first saw launched at last year's show. As a result (as I am easily led), I bought one of these earlier this year and it is a plant I am very fond of.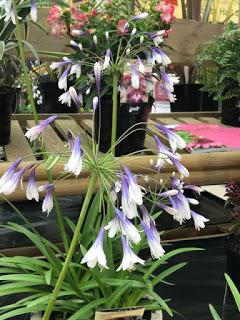 It was very exciting to see this new agapanthus being introduced by Wyevale Nurseries, this is Agapanthus Fireworks.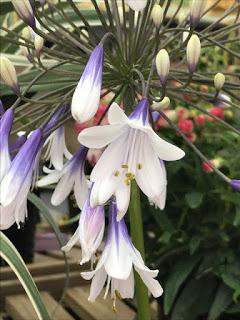 It has quite large flowers and look at the wonderful blue at the back of the petals.
I want one.
I shall find one.
It will be mine, oh yes.
As I said at the start mine was a flying visit, but I had a lot of fun. I met up with some garden-blogging chums which is always a good way to spend the day.
I am looking forward to seeing these products on sale and looking forward to next year's show already.