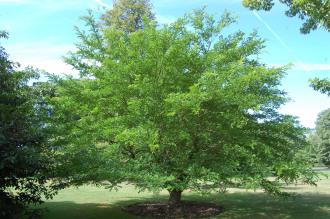 Gleditsia caspica (15/08/2015, Kew Gardens, London)
Position: Full Sun 
Flowering period: Mid spring to early summer
Soil: Moist, well drained
Eventual Height: 12m
Eventual Spread: 9m
Hardiness: 6a, 6b, 7a, 7b, 8a, 8b, 9a, 9b
Family: Fabaceae
Gleditsia caspica is a deciduous tree with a dome shaped growth habit. Its bright to mid green leaves are pinnately or bipinnately compound. Its leaflets are ovate with entire margins, up to 5cm long and 2cm wide. The leaves turns yellow in the autumn before they fall. Its branches and trunk can be quite spiny, producing branched thorns which are up to 30cm long. Its grey/ brown bark has elongated plates, becoming deeply fissured with age. Its hermaphroditic flowers are yellow/ green and  held in hanging racemes and emerge from the base of the leaf axils. Its fruit are a legume or pod that matures in early autumn and up to 20 cm long. Its roots from a symbiotic relationship with nitrogen fixing bacteria which not only provide accessible nitrogen to the tree itself but also to those growing in close proximity.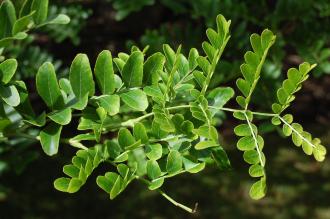 Gleditsia caspica Leaf (15/08/2015, Kew Gardens, London)
Gleditsia caspica, commonly known as the Caspian Locust, is native to western Asia, including Iran. In its native habitat it usually grows in mixed deciduous forest.
The etymological root of the binomial name Gleditsia is named after Johann Gottlieb Gleditsch (1714-1786) who was a German botanist and physician. Caspica is derived from the Latin referring to the Caspian Sea.
The landscape architect may find Gleditsia caspica useful as an attractive street tree due to its tolerance of urban pollution. Once established this tree is drought tolerant.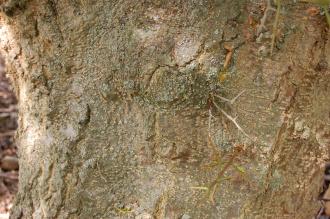 Gleditsia caspica Bark (15/08/2015, Kew Gardens, London)
Ecologically, Gleditsia caspica is attractive to pollinating insects.
Gleditsia caspica prefers moist, fertile, well drained soils. It tolerates most pH of soil.
Gleditsia caspica requires little maintenance.

Landscape Architecture