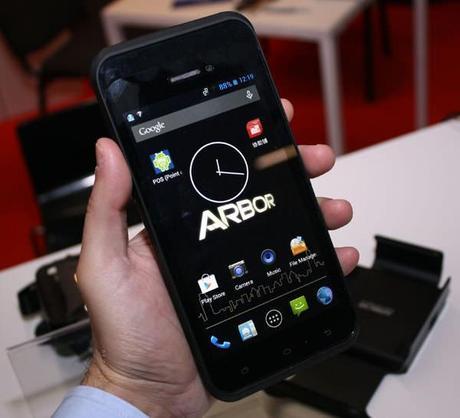 Present day smart phones are usually more like the pocket computers, which also are able to make phone calls. The Gladius 5, is a ruggedized phablet (phone tablet) from Arbor, and takes this fact a step ahead with a device that is hand-held and more of an entire workplace, comprising of the capability to make phone calls through single or multiple SIM card slots available.
The Gladius 5 is designed to work in both warehouse and the field. Moreover, just like all other majority of devices with Android Jelly Bean, the Gladius 5 too has a built-in wireless charging capability, NFC reader, RFID and 1D or 2D barcode reader barcode imager. Apart from this, it has a loaded sensor suite comprising of various features of a barometer, an accelerometer, a digital compass, triple-axis gyroscope and ambient light.
Gladius 5 is marketed as an "Internet of things handheld device," by Arbor. It envisions the terminal field device for collecting data during transport or sale, warehouse, or also in the medical applications. Obviously, with wifi, dual SIM slots, bluetooth in the mix, the plan is to exchange the data in a two ways. This rugged device is actually more like an extension pertaining to office as compared to a "dumb" sensor.
The "rugged" attribute of the phone is other key part. While not as tough as little consumer devices as that of Kyocera Brigadier, the rating of Gladius 5 is dust-proof, that it handles a 5-foot drop, and few of the meager water splash since it is a splash-proof device. Rest of the software tweaks help to optimize this device further for fieldwork, comprising of simplified setup of input devices of Bluetooth like keyboards, and the added app of TouchPal that is an interface similar to Swipe allowing "blind typing," that means auto correction of errors.
At the base of this device is a quad-core MediaTek processor of 1 GHz, a microSD slot with 8 GB storage, 1 GB RAM and also a TFT display of 1280 x 720 dimension. Its huge battery of 3600m is removable and that is good as it can quickly run through it. Arbor mentions that the Gladius 5 delivers a battery life of roughly eight hours for specific use.  In addition to this, a dedicated button that enables barcode scanning is easy to use and has no problem reading any of the code including some products with basically retail outlets' hitches.
It is quite tough with its Gorilla Glass 3 screen and rubber case, but is also pretty heavy, little goofy at looks and thick. This gives you a feel when in hand. With a weight of 280 grams (9.9 oz), that is twice than an iPhone 6, it measures 84.0 x 175.6 x 15.9 mm (3.31″ x 6.91" x 0.63"). Its retail price starts at US $867, and this phablet is probably going to be the best for enterprise customers. It can also work well for the owners of small business or for the eBay.