Feeling fortunate today…
Before I announce the lucky winner of the vintage Chanel ad (yay!), and while I had your attention for a just a few moments of your busy day, I wanted to talk about those less lucky than we all are — those that are more concerned about putting food on their tables, not so much the latest design books or trendy accessories.
I feel very fortunate to live in Orange County, CA. It's beautiful, sunny, a great place to raise a family. But even in as affluent of a place as this, 33% of kids are at risk of hunger. Almost a quarter of the county's residents live in economic hardship. Almost 9,000 homeless families and over 16,000 homeless children reside in the county, according to a recent estimate.
I have been actively involved in charity efforts for my whole adult life,  but most recently I joined a volunteer organization of women here in the O.C.. I've mentioned before these women are truly amazing – working and stay-at-home moms, newlywed and single professionals, and totally on the ball. For the past six months, I've been dedicating a big portion of my time and services at Small Shop to create the branding and materials for our biggest fundraiser, The Christmas Company. The money raised will directly benefit over six charities here, such as CHOC (Children's Hospital of Orange County) and Second Harvest Food Bank.
The event is being held next week 11/17-11/20 at the O.C. Fair and Event Center, and I urge anyone that is here in the LA/So Cal area to come check us out! We'll have over 100 boutiques to get your holiday shopping done early, plus special events like a swanky Gala with live band Tijuana Dogs, a breakfast with Santa, a cooking demo with Zov's, and a yoga session with renown instructor Kimberly Fowler from YAS. I'll be taking my daughter to one of the Fancy Nancy Tea Parties. We are pretty much doing everything we can to get people to come out and have fun, all the while supporting these important charity organizations. Check out our website for more information: www.shoptcc.com.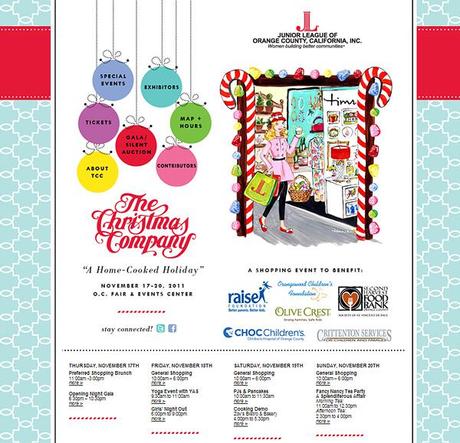 So while you may not be able to support these particular efforts, perhaps think about it over Thanksgiving and the upcoming holidays. Even giving just a little helps, whether it's clothes, time, money, ideas, food…be proactive and seek out ways that you can give back.
Now that we all have some perspective, the lucky winner chosen by Random.org is…#47 Hilary! Thank you everyone SO much for your entries and overwhelming support! I wish I had a 110 of them to give to each of you. ;o)