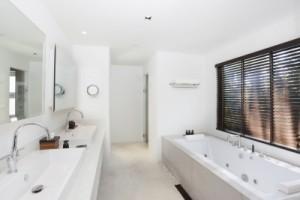 Is your bathroom a disaster?  Does your bathroom need deep cleaning?  I know mine is usually cluttered with beauty products and personal items on the bathroom counter.  The bathrooms in our house are lacking in storage so our personal care items usually end up sitting on top of the bathroom counters.  I wish I could come up with a better way to organize the clutter (sounds like a Pinterest project in the future).  Hopefully, your home has more storage in the bathroom than I do.
Conquer Tough Water Stains
The bathroom shouldn't take a long time to clean unless you battle hard water stains, which can be a hassle to clean.  If you have hard water, start with the shower and/or bathtub first.  Spray the cleaner onto the shower walls and door so that it can sit on the hard water and go to work.  According to some wonderful Pinterest users, a mixture of Blue Dawn Soap and Vinegar is a great natural cleaner for hard water problems.  Warning: it does stick so make sure that you turn on the fans in your bathroom.
Before you begin cleaning, make sure that you have plenty of rags and paper towels.  You want to make sure that you don't ever mix chemicals.  Mixing chemicals is not only dangerous but it can cause you to get sick.
While waiting on the cleaner to do it's job on the the shower or bathtub, let's tackle the rest of the bathroom and get it sparkling clean.
Declutter – Put up any items on the bathroom counter that you use occasionally.  Next, move half of the items that are left on the bathroom counter.  
Clean Bathroom Counter – Spray the bathroom cleaner onto the counter and wipe down.  If you have any hard water stains, allow the cleaner to sit on the stains for a few minutes.  Repeat the process on the other half of the sink.   Reorganize personal items that you store on the bathroom counter.
Mirror – Clean the mirror using window cleaner and wipe with a paper towel.  If you use a regular towel, you are at risk for leaving fuzz on the mirror.
Lights – Wipe down the bathroom lights with the paper towel that you used on the mirror.  Be careful they may be hot to the touch.  If so, then turn them off and come back to this step.
Toilet – Generously apply the toilet cleaner into the toilet bowl.  Allow it to sit for a minute.    Then use the toilet brush to clean bowl, rim, and toilet seat.  I use a tablet in my toilet bowl between cleanings to help keep it clean and smelling good.  Using a spray cleaner, wipe down the back of the toilet using paper towels or clean rag.  Next move towards the bottom and base of the toilet, wipe this area down.
Window Treatments –  Grab a damp rag and wipe down the blinds and windowsill to remove any dust accumulation.  If you have curtains on your bathroom window, now would be a great time to wash them.
Shower/Bathtub – If your cleaner has dried already, apply a small amount of cleaner to a clean rag.  Wipe down the shower or bathtub.  If you notice any red or black areas at the base of your shower/bathtub, you have mold growing and this needs to be killed.  After you clean the shower/bathtub and the chemicals have dried you can use a 10% solution of bleach to kill the mold.  If you have mold, you can also purchase a Germ Guardian GG100 Air Sanitizer.  This product helps remove odors and allergens including mold by using UV to sanitize, which will help reduce mold accumulation in the bathroom.  If your shower curtain has mold on it, you can either replace it or soak it in a 10% bleach solution in the bathtub after you are finished cleaning.  If you do this, make sure that you thoroughly rinse the bathtub out before adding the bleach mixture to avoid mixing chemicals.
Towels/Floor Mats – Gather up all of the towels and bath mats and take them into the laundry room.  Wash and dry the towels using Hot water to help disinfect any germs or mold that might be harboring in your towels/floor mats.
Floors – Move any items that are stored on your bathroom floor such as the trash can, scales, ect.  If there are any  clothes on the floor toss them into the laundry pile.  Next, sweep the floors using a broom and dust pan.  Then you should mop the floors, again my Swifter Wet Jet is my favorite product.
To get weekly updates to Uplifting Families, please subscribe to my newsletter or join in the conversation with me on Twitter, Facebook, Pinterest, and G+.
What is your favorite bathroom cleaner?