GarryRogers:
My interest in rabbits is quite personal of course. More than happy to help.

Originally posted on Vegan Lynx:
I say bunnies have a lobby on Care2 – let's see if they do here on WordPress!
Please sign and share, tweet and post!
CRUEL! Have YOU signed the petition yet?
Very graphic!  But reality for millions of rabbits:
Would you kill and eat this guy? WholeFoods thinks you should!
https://www.change.org/p/wholefoods-please-do-not-sell-rabbit-meat-in-your-stores?recruiter=3606627&utm_source=share_petition&utm_medium=email&utm_campaign=share_email_responsive

►PET.1 http://bit.ly/1kKoKHv
►PET.2 http://chn.ge/1fEG7rt
►PET.3 http://chn.ge/1EAMxnz
►PET.4 http://chn.ge/1rdqsoB…
Scroll down and vote with  YES
Horror tests on rabbits on up – including smearing bacteria on exposed muscles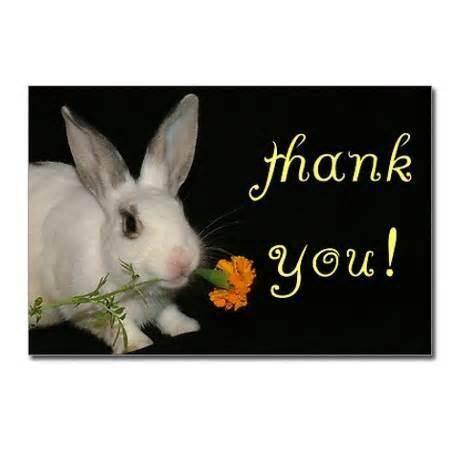 Bunny Rabbit Flower Marigold Thank You ..." title="Give bunnies a lobby on WordPress!" /> Bunny Rabbit Flower Marigold Thank You ..." /> Bunny Rabbit Flower Marigold Thank You ..." title="Give bunnies a lobby on WordPress!" /> Bunny Rabbit Flower Marigold Thank You ..." width="400" height="400" />