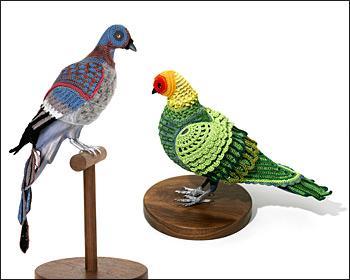 Laurel Roth, Biodiversity Reclamation Suit: Passenger Pigeon (2008) and Biodiversity Reclamation Suit: Carolina Parakeet (2009), suits: cotton, silk, bamboo, wool, acrylic blends, mannequins: hand-carved basswood, acrylic paint, gouache, glass eyes, metal legs, walnut stand, Courtesy of the artist; Frey Norris Gallery, San Francisco; and Schroeder Romero and Shredder Gallery, New York. Click on image for larger image.
Meet Martha the Passenger Pigeon and Incas the Carolina Parakeet. These two fine aves were lovingly crafted by artist Laurel Roth for the exhibition 40 under 40: Craft Futures, opening at the museum's Renwick Gallery July 20. Hand-carved of basswood, Martha and Incas are common pigeons in disguise as extinct North American species to allay the artist's concerns about the state of the environment, and to reintroduce biodiversity through their many-colored suits of cotton, silk, bamboo, wool, and acrylic. Martha and Incas are seeking a forever home with the Smithsonian American Art Museum because life on the streets, as Martha puts it, is "for the birds." Curator Nicholas Bell wants the feathery duo to join the museum's collection for a number of reasons, one of which is their illustration of the spirit of the young artists showcased in 40 under 40. "We're so happy Martha and Incas are shooting for the big leagues," says Bell. "I love them because they perfectly sum up the irony that so often defines this generation of craft artist. Their duds are 'tres chick'—they wear their art on their sleeve."
You can help Martha and Incas—as well as "a number of other contenders"—stay at the museum with your donation of $10 or more. That's right, for the price of an exorbitantly-priced beer at one of DC's hipster bars, you can help the museum in its effort to add works by each of the 40 artists to the collection. Here's some more information on how to be a part of craft history! And if that isn't exciting enough, if you donate before July 15 your name will appear in the exhibition itself. Now that is something that is definitely not for the birds.