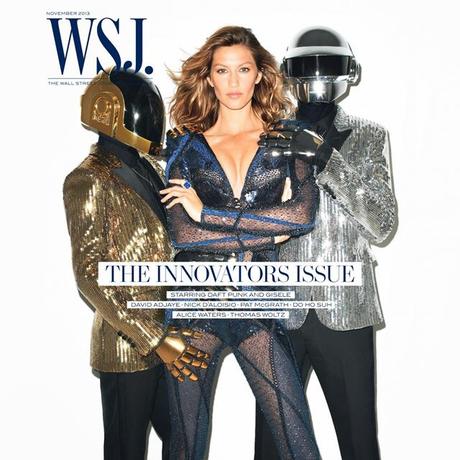 Gisele Bundchen and Daft Punk by Terry Richardson for WSJ Magazine November 2013
Gisele Bundchen ,the highest paid model of the world graced the cover of the November 2013 issue of the  Wall Street Journal (WSJ) magazine in company of the legendary band Daft Punk, as usual, hiding their faces.Last night at the "Innovator of the year" 2013 awards the French duo won the award "Entertaiment Innovator".
The model is dressed in brilliant form-fitting jumpsuit that complement the glittering jackets worn by the musicians. And the photographer was Terry Richardson. It seems like the fashion and entertainment industry close their eyes to all the stories about the photographer and he still is one of the most requested….