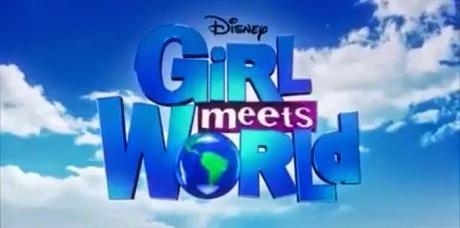 "How long do I have to live in my Father's world?" "Until you make it yours!" - Riley & Cory Matthews
I was a huge Boy Meets World fan when I was growing up so when I heard that Disney had finally ordered a brand new spin-off I was over the moon. Girl Meets World follows Cory & Topanga Mathews daughter Riley as she learns what it means to grow up and sets off down the same lane of discovery that her father once trod in the original show. 
It could have gone horribly wrong and been a complete flop but thank goodness that it turned out to absolutely bloody amazing! Ben Savage and Danielle Fishel slip back into their famous roles as easily as if Boy Meets World had never ended and the new generation of kids are really good too. To be fair I was holding judgment about the younger cast until I'd seen them in action so to speak and now that I've sat down and watched it I personally think that they are good enough to stand beside Ben and Danielle. Confession time: I actually found myself tearing up at a few scenes here and there as I got a flood of 90s nostalgia come rushing back to me - especially during the last few minutes when we are treated to probably the most anticipated cameo of this Pilot episode: the great Mr. Feeny, "Well done Mr. Matthews". Like I said I don't know why, maybe it's a longing for my childhood but when he said that I just bawled like a baby.
When watching Girl Meets World you do have to remember that we're no longer in the 90s so of corse the show won't be an exact clone of its predecessor but once you get past that then it's all uphill from there on out. I really hope that this will go on to have as much success and BMW because it actually really deserves it and not just because it's been hyped up so much. 
Girl Meets World official airs in the USA on 27th June on the Disney Channel, but if you're impatient like me than you can watch the Pilot episode online now.