A photo taken on February 6, 2013 shows a young mother accused of sorcery who was stripped naked, reportedly tortured with a branding iron,
tied up, splashed with fuel and set alight on a pile of rubbish topped with car tyres, in Mount Hagen city in the Western Highlands of Papua New Guinea.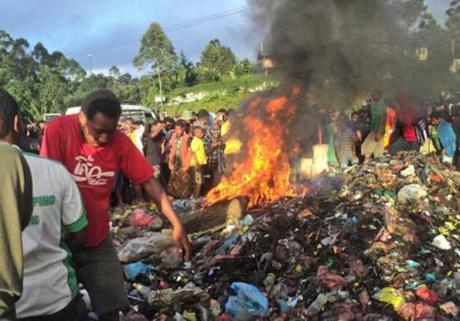 PORT MORESBY, Papua New Guinea — A mob stripped, tortured and bound a woman accused of witchcraft,then burned her alive in front of hundreds of horrified witnesses in a Papua New Guinea town,police said Friday. It was the latest sorcery-related killing in this South Pacific island nation
Kepari Leniata, a 20-year-old mother, had been accused of sorcery by relatives of a 6-year-old boy who died in a hospital on Tuesday.
Read the full article in  My Daily News. 
The incident happened in broad daylight in front of hundreds of eyewitnesses and yet we haven't picked up any suspects yet," he added.
Kakas described the victim's husband as the "prime suspect" and said the man had fled the province. Kakas said he did not know if there was a relationship between the husband and the dead boy's family.
He said more than 50 people are suspected to have "laid a hand on the victim" and committed crimes in the mob attack. While many children had witnessed the killing, there were no child suspects, he said.
Again a government and police are afraid to step in to change the law and stop these things happening, a lot of these people must be uneducated, backward and afraid to try and make change.