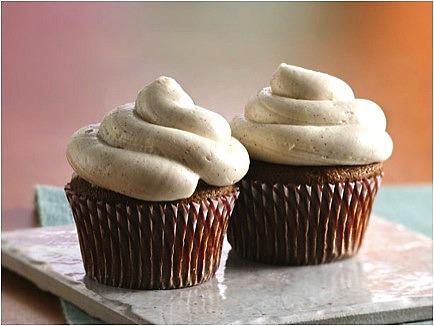 Source: Betty Crocker
To say I'm a fan of gingerbread anything is a major understatement. And during the holidays, my taste buds can't get enough fall-esque desserts (think gingerbread, pumpkin muffins, spiced cakes, and streusel topped anything). There's something so delicious and cozy about a gingerbread dessert and a big cup of joe. One bite of these creamy gingerbread cupcakes and you'll be thinking about them morning, noon, and night. This spiced cake gem is chock-full of ginger, cinnamon, molasses, and allspice. But the frosting is the real dessert super star with its rich cream cheese, cinnamon, and vanilla medley. These decadent cupcakes will have you thinking Christmas has come early. Enjoy….
Ingredients
Cupcakes
1/2 cup granulated sugar
1/2 cup butter or margarine, softened
1/2 cup molasses (either dark or light; however, dark will provider a richer flavor)
2 eggs
2 cups all-purpose flour
1 teaspoon baking soda
1/2 teaspoon salt
1 1/2 teaspoons ground ginger
1/2 teaspoon ground cinnamon
1/2 teaspoon ground allspice
3/4 cup water
Frosting
1 package (8 oz) cream cheese, softened
1/4 cup butter or margarine, softened
2 teaspoons grated lemon peel
1 teaspoon ground cinnamon
1 teaspoon vanilla
4 cups (1 lb) powdered sugar
1 to 2 teaspoons milk
Directions
Heat oven to 375°F. Place paper baking cup in each of 18 regular-size muffin cups.
In large bowl, beat granulated sugar, 1/2 cup butter, the molasses and eggs with electric mixer on medium speed, or mix with spoon. Stir in flour, baking soda, salt, ginger, 1/2 teaspoon cinnamon, the allspice and water. Spoon about 1/4 cup batter into each muffin cup.
Bake 15 to 18 minutes or until toothpick inserted in center comes out clean. Cool 5 minutes; remove from pans to cooling racks. Cool completely, about 20 minutes.
Meanwhile, in medium bowl, beat cream cheese, 1/4 cup butter, the lemon peel, 1 teaspoon cinnamon and the vanilla with electric mixer on low speed until smooth. Gradually beat in powdered sugar, 1 cup at a time, on low speed until smooth. Beat in milk, 1 teaspoon at a time, until spreadable.
Pipe or spread a generous amount of frosting on top of each cupcake. Store covered in refrigerator.
Makes 18 cupcakes