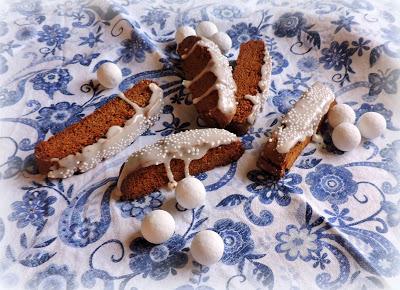 I am here today with a delicious cookie that will be a fabulous addition to your Christmas baking list.  These Gingerbread Biscotti  would not only be great on your cookie trays, but perfect for cookie exchanges,  or as a wonderful gift in a basket, with some nice coffee mugs, hot cocoa mix, marshmallows, etc. all tied up with a bow!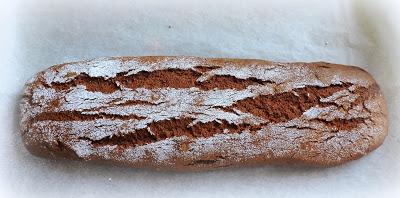 Biscotti are one of my favorite cookies for baking!  They are as simple as making up a dough, shaping it into logs and then baking the logs.  Once the logs are baked (see above) you cut them crosswise into sices and bake again . . .  the second baking gives them that characteristic crunch that we all love.  Perfect for dunking!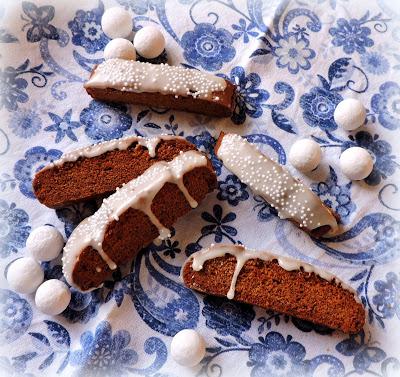 I wish they had smell-aputer!  Because the smell  of these baking will rock your world to heaven and back again!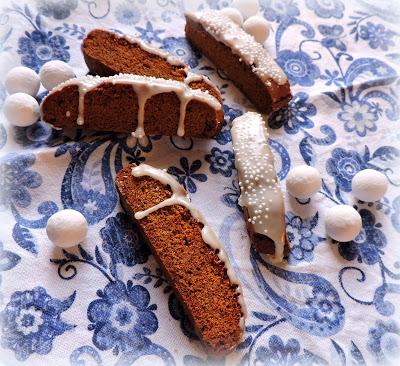 I wish I could bottle the fragrance up and sell it.  I'd be a millionaire I am sure.  Pure heavenly bliss!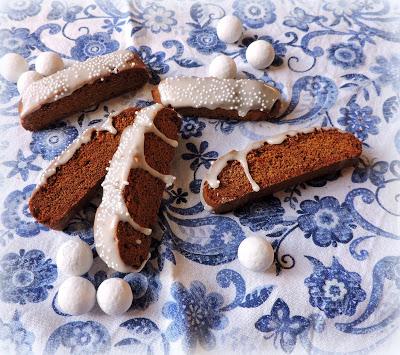 Crisp and gingerbready with a bit of a snap, these are great on their own with just the icing sugar dust gilding the top  . . . but . . .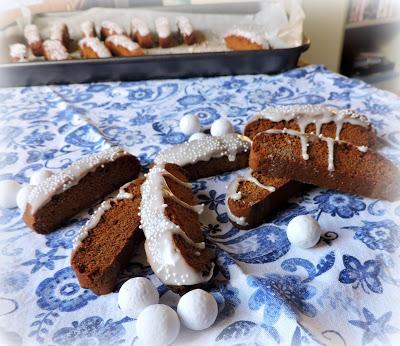 With just a tiny bit more effort you can have a glorious drizzle icing that looks like icicles gilding the top.  I sprinkled on some white non pareils as well, for an additional snowy effect!  Very pretty!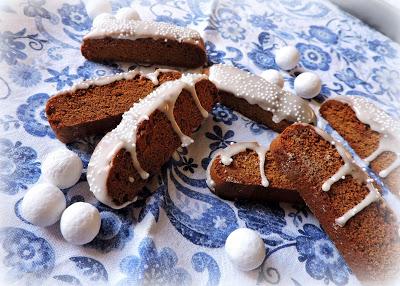 *Gingerbread Biscotti*Makes about 24Printable Recipe
 These smell heavenly when they are baking.  Oh boy.  Delicious and crisp and everything a good biscotti should be! 
310g plain flour (2 1/2 cups)1 tsp bicarbonate of soda (baking soda)1 tsp salt1 1/2 tsp ground cinnamon1 1/2 tsp ground ginger3/4 tsp ground allspice1/2  tsp ground cloves1/4 tsp black pepper85g butter, softened (6 TBS)200g soft light brown sugar (1 cup) (I use muscovado which has a high molasses content)2 large free range eggs2 tsp vanilla extract2 TBS molasses1 - 2 TBS confectioners sugar to dust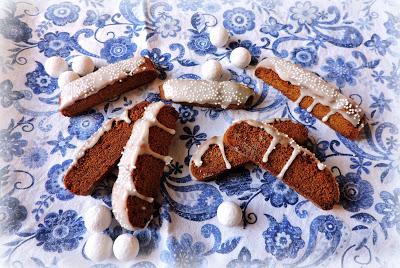 Preheat the oven to 180*C350*F/ gas mark 4.  Line two baking sheets with baking paper. 
Sift together the flour, soda, salt, cinnamon, ginger, allspice, cloves and black pepper.  Set aside. 
Cream together the butter and brown sugar with an electric whisk until light and fluffy.  Beat in the eggs, one at a time. Stir in the vanilla and molasses. Stir in the flour  mixture to make a stiff dough, mixing all together well.  
Using lightly floured hands divide the dough into halves and shape each half into a 12 inches by 2 inches log on each baking sheet.  Dust generously with icing sugar. 
Bake for 30 minutes.  Remove from the oven and let stand for 10 minutes.  Remove from the baking sheets to a cutting board and cut across into 3/4 inch slices.  Place the slices, cut side down, onto the baking sheets and bake for a further 10 minutes or so until crisp.   Cool completely on a wire rack before storing in an airtight container for up to 1 week.  They can also be frozen for about a month. 
Optional:  Glaze and decorate with  a simple white icing glaze and some white non-pareils.  Simply whisk together 260g icing sugar (2 cups) with a few drops vanilla and just enough milk to give you a smooth drizzle.  Dip the upper edges into the icing and then into the non-pareils.  Let sit  until the icing has set and dried completely before storing.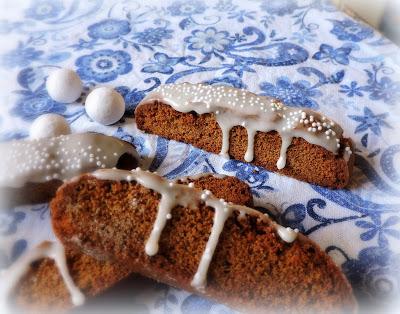 I am going to have to bake another batch because the first batch I made is gone, gone, gone.  These are that good, and we are that naughty!  Happy holidays and Bon Appetit!