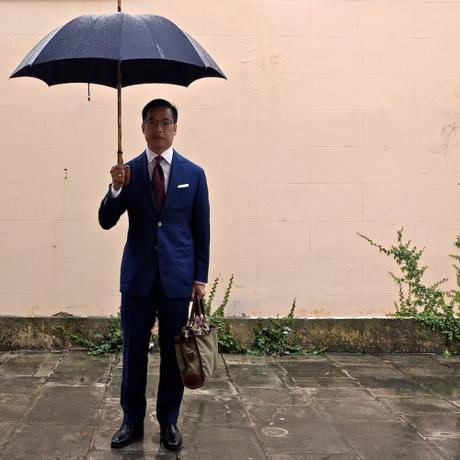 The 1964 film Umbrellas of Cherbourg opens with this beautiful scene of Paris. It's a wet and dreary day, and the camera pans down to one of the city's dark-grey and muddy-brown roads. A few seconds in, someone wearing a yellow raincoat walks across the street. Then someone else opens a red umbrella. Suddenly, the screen is filled with bright coats and pastel-colored canopies – and just like with the rain, colors begin to pour across the screen.  
I think of that scene sometimes when choosing an umbrella. Black is the only color that should be in everyone's closet (it goes with everything), but if I don't need to look serious that day, I usually reach for something more cheerful. Bright yellows and reds are too dandy for me, but the colors that usually work well for neckwear also do pretty good for canopies – British racing green, chocolate brown, and deep navy. If I do pick a black umbrella, it's almost always the vintage Ralph Lauren with a leather wrapped handle – rarely the plain cherry wood that I thought would be a staple. 

Brooks Brothers, Barbour, and London Undercover sell reasonably nice umbrellas for about $50. For something better, however, be prepared to pay anywhere from three to twenty times the price, depending on the construction and materials. Swaine Adeney Brigg, for example, makes beautiful, silver nosed, Malacca wood umbrellas, but they cost more than what most men spend on sport coats (although, still a fraction of what Visvim is trying to charge for this thing).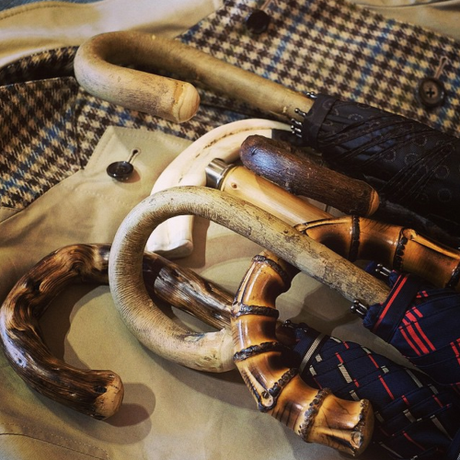 The good news is that, above a certain price point, differences become more about style and preferences than they are about quality. After all, there are only so many parts to an umbrella, and many of the processes and materials used are the same across workshops. Most companies get their canopies from the same supplier; solid sticks are usually from Francesco Maglia; and the ribs are generally made in China (although, Mario Talarico once told me his come from Germany). 
Among the makers I've tried, the only one that stands out as a bit lower than the rest is Pasotti, who misses some of the higher-end finishing. For example, whereas my Talaricos use mother-of-pearl buttons and fabric-covered rings to secure their furled canopies, my Pasotti has a metal button snap; and whereas the ends on my Talaricos are capped with horn, my Pasotti uses hard black plastic.
Still, Pasotti charges about half as much, which makes the a great option for those who aren't interested in spending $300+ on something they could leave behind in a cab. You can find them in the US at Howard Yount.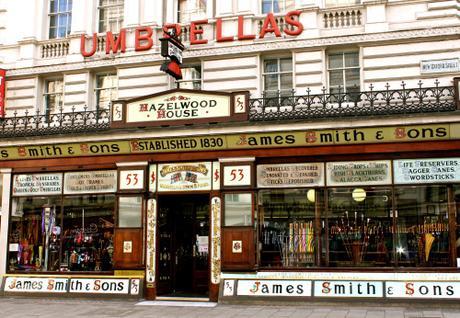 My favorites? Swaine Adeney Brigg for black business umbrellas, if only because of the company's storied history. Fox is good for anything custom, especially if you live in the US (just order from The Armoury to avoid import charges). On my green-canopied whangee umbrella, I was able to get them to make the shaft and handle look like a solid stick by hiding the break with a silver metal collar. After that, there's Mario Talarico, a small, two-man workshop in the Spanish Quarter of Naples that I find charming. Francesco Maglia is also excellent, and they make for the likes of Hermes, Chanel, and Tom Ford. 
For other options see James Smith & Sons in England; Alexandra Sojfer, Michel Heurtault, and Le Veritable Cherbourg in France; and Doppler and Oertel in Germany. Lastly, although not technically a manufacturer, Gilbert in NYC can make you an umbrella from vintage parts he's collected over the years (his main work is in repair). I've been meaning to get a vintage Fox Paragon frame umbrella from him with a solid navy canopy. Like with neckties, it's nice to have some color options – especially if the weather is already gloomy and gray. 
(Photos via Guido Wongolini, The Armoury, The Rugged Salt, No Man Walks Alone, Brio Beijing, Fox Umbrellas, James Smith & Sons, The Hanger Project, The Ism Book, and GQ)