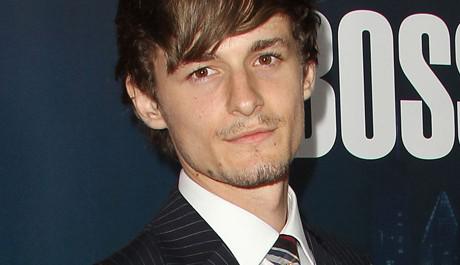 In January of this year, E! Online broke the news that Giles Matthey would be taking on the role of Claude for True Blood season 5 and serve as a love interest for Deborah Ann Woll's Jessica Hamby.  The actor recently sat down with the people over at Wet Paint for an interview to discuss how he got the job and what his character will be up to in Bon Temps!
Giles got the role by doing a last minute audition in front of True Blood creator Alan Ball the day he was due to fly back to New York. He was in the airport security line when his agent called and told him that he landed the role! So he had to turn around and go back into Los Angeles because he was needed for the wardrobe department the very next day. Of getting the part he says:
"And that really changed my life. Because up until that point I had done a bunch of theater and a guest spot on The Good Wife and an indie film. To get a role that I got is a bit of a dream come true really."
As for life on the set, Matthey says that everyone is very supportive which is something he was surprised by given how many big names are on set:
 "Everyone from the writers to the directors to Alan to the stars of the show like Anna and Stephen [Moyer] and Ryan — these people, they're fairly big names. You'd expect them to be just so professional and so busy that they wouldn't have time, but it was just the complete opposite. It really is like watching a well-oiled family unit put this thing together."
But what about Claude? In the interview Matthey confirms that he'll be playing the same Claude from the Southern Vampire Mysteries in a different way. He's not exactly the hunky male stripper we've seen in the Charlaine Harris novels. But look for him to give some advice to Sookie (Anna Paquin):
"Without giving too much away he kind of goes into Sookie being a fairy and what that means to her and what that means to the fairies in general. He has sisters as well, quite a few sisters.

It will be really interesting to see, because last season, the fairies were portrayed in such a way and it will be interesting to see how the audience views fairies in this up-and-coming season and on."
Matthey goes on to say that the fairies are going to be a focus of season 5 and that the audience will get a lot of answers regarding the fairies this season. Like his co-star Camilla Luddington who plays Claudette, Giles emphasized how great the dialogue is that he has to say.
And of course, the interview wouldn't be complete without asking whether Giles will be stripping down this season. He wouldn't confirm or deny it. But he did say it's a little bit difficult with how good his other male co-stars look:
"Well, I don't think many people would want to. It's hard when you have people like Joe [Manganiello] (Alcide Herveaux) and

Alexander Skarsgard (Eric Northman) on the show because if you're not like that, you're kind of like, "How the hell can I compete with that?"

But who's to say? I don't know what they have in store. If they were to say, "You have a scene of that nature coming up" or whatever, they're so professional and they know what they're doing. They do it very tasteful.

I've seen some of Jason Stackhouse's (Ryan Kwanten) sex scenes and they don't leave a lot to the imagination. It's a very, it's your primal instinct. That's why I think it's so successful because it taps into those primal urges and desires."
So what do you think of Giles Truebies? Are you excited to see what he'll be doing as Claude this season? Sound off in the comments below!
Source: Wetpaint.com- "Exploring True Blood's Fairies: Scoop From New Cast Member Giles Matthey"
Image Credit: Getty Images