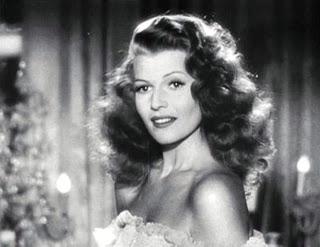 "Hate is the only thing that has ever warmed me."
Gilda
(1946) gave Rita Hayworth her signature role. From her introductory hair flip to her iconic musical numbers, Hayworth's sultry in a fashion matched by few stars of any era. While she's the primary selling point,
Gilda
offers a nasty cocktail of noir and melodrama.
Gambler Johnny Farrell (Glenn Ford) works for Buenos Aires casino owner Ballin Mundson (George Macready). Ballin marries dancer Gilda (Rita Hayworth), who has an unspoken history with Johnny. While Johnny and Gilda grow unpleasantly reacquainted, Ballin disappears after crossing swords with a gang of Nazi refugees. Johnny takes over his business and marries Gilda, using the situation to avenge himself and his boss.
Director Charles Vidor provides
Gilda
with indelible imagery. Rudolph Mate provides textbook noir photography, contrasting Balin's handsome casino with seedy, all-consuming black. Gilda disappears into shadow in her bedroom, imprisoned by her dark past; Ballin's completely bathed in darkness once his evil side comes out. Vidor stages violent incidents (a murder amidst a masquerade) but it's the erotic musical numbers that really stand out.
Few '40s films flaunt their sexual politics so bluntly. Johnny and Gilda engage in sadistic gamesmanship: Gilda taunts Johnny with bold flirtations and verbal barbs, Johnny compares her to Ballin's laundry. When they marry she's wearing a black funeral gown, portending a miserable match. Johnny boasts of locking her up, having casino toughs beat her lovers and deny her freedom. Eventually, Gilda lashes out the only way she knows how, reviving her sultry nightclub act.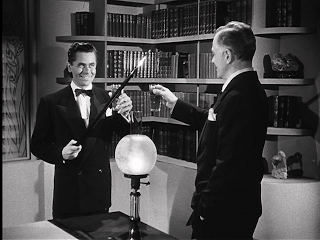 Vidor (and screenwriters Jo Eisinger and Marion Parsonet) present their roundelay as a mutual exercise in sadism. Johnny's tempted to "put the blame on Mame," as Gilda sings, but he's such a boor we sympathize with her indiscretions. Ballin's ambiguous presence compounds things. His phallic sword cane and chumminess to Johnny invites images of an evil
menage a trois
. He's only the villain because his megalomania outpaces Gilda and Johnny's petty feud.
Rita Hayworth commands the screen with enviable ease. Who else could make peeling off a glove as sexy as an actual striptease? Hayworth works to make Gilda, both a "greedy child" and a slut, a human character, biting off baiting wisecracks ("Boys have the darndest way of growing up") and struggling to retain her dignity. Glenn Ford makes Johnny a loathsome louse, while George Macready offers icy hauteur and wounded, throbbing ego.
Frankly,
Gilda
's story isn't compelling. Ballin's tungsten consortium offers a weak McGuffin to move the plot and provide occasional action scenes. When Ballin reappears for the climax, it seems almost unnecessary. But the snappy script, and amusing side characters like the overfriendly detective (Gerard Mohr) and cynical manservant (Steven Geray), overwhelm any narrative problems. Besides, Johnny and Gilda's twisted relationship is so fascinating that even Nazis become an afterthought.
It's remarkable that
Gilda
made it past the Hays Office without comment. Perhaps the dated gender roles and jerry-rigged happy ending redeemed its warped central relationship. Then again, Johnny and Gilda's final embrace can only seem a prelude to more nastiness. In both their tawdriness and qualified redemption, these two deserve each other.