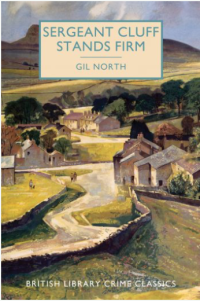 Sergeant Cluff Stands Firm is the first in Gil North's Sgt. Cluff crime series, one of the titles in the British Library Crime Classics series. In the 60s, North's series was very successful and was even made into a TV series, but it's long been forgotten and out of print. Luckily North's first two novels, along with a variety of other forgotten British crime classics, are available again. I've been following Guy's (His Futile Preoccupations) progress through the British Library Crime Classics series in the last couple of months and was keen on finally trying them for myself. Reading his review of North's second Cluff novel finally made me pick up one of the books. I liked what he wrote about book two The Methods of Sergeant Cluff, so much, that I thought it was worthwhile to start the series at the beginning. (Of course, he reviewed book one too (here's the review) but for some reason I never saw that review.)
The series is set in Yorkshire. Descriptions of the bleak landscape, the rough weather, the lonely moors are part of the appeal. And the main character Sergeant Cluff, of course. Cluff is one of those silent, loner type detectives. He mostly keeps to himself, lives outside of the small village, gets in trouble with his superiors. That might not sound all that likable but as soon as I found out that, like Hamish Macbeth, he's a lover of animals and owns a cat and a dog, I was won over. Sometimes an animal loving character can be depicted as a misanthrope, but while Cluff is wary of fellow humans, he's a very empathic, compassionate man. And it takes a man like that, someone who observes people, feels compassion, to detect that something's fishy, when they find the body of Amy Wright.
Amy Wright is found dead, in her bed, in her gas-filled house. She's a woman in her forties, who, after a life of taking care of her mother, got married to a much younger man. A useless man with the reputation of being a womanizer. It seems obvious that Amy committed suicide. While Sgt. Cluff can't find proof that it isn't a suicide, he still thinks she might have been murdered and finds it odd that her husband has disappeared.
When his superior doesn't want him to pursue the case, Cluff takes a vacation, investigates on his own, uncovers some very dark secrets, and puts himself in danger.
I was so surprised by this book. It starts a bit like a cozy mystery but then quickly turns into a realistic, bleak tale of disappointment and greed. I liked that not the whole book was told from Cluff's point of view. The points of view of other characters were included which gave the impression the book was far more substantial than it is (it has only 155 pages). The descriptions of the landscape, and the time, Yorkshire in the 60s, was something else I appreciated. This is a old-fashioned, but changing world. Another surprise was that the book which initially felt quite pensive, picked up speed and turned into a real page-turner towards the end.
As soon as I had finished, I ordered book two in the series. I think that tells you how much I liked it. Cluff reminded me of M. C. Beaton's Hamish Macbeth. I'm pretty sure, she knew North's series. Her series is more on the cozy side and Hamish is less of a loner. Nonetheless, there are parallels— the love for animals, the compassion and the strong sense of place. And I will definitely read more of the British Library Crime Classics.