I had been waiting for that night since I was 10 years old. That was the last time I saw Jean Michel Jarre live, at one of his two Destination Docklands gigs in London on 8th October 1988. Exactly 28 years later to the very day, I was getting to see him again, this time at Birmingham Barclaycard Arena.
At last, the time came, and commencing with "The Heart of Noise", the sound of electronica expanded to fill every square millimetre of that arena.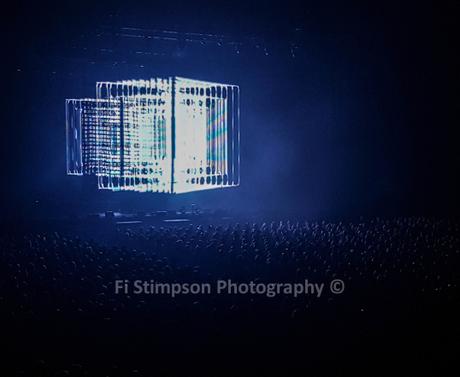 My 13-year-old daughter was immediately transfixed by the light themes, and was suitably impressed with both the creative, scientific patterns produced, and the stories told with lights and lasers. Considering she's not an easy girl to please, I breathed a sigh of relief that she was to enjoy this gig as much as I would!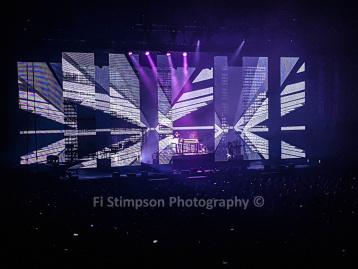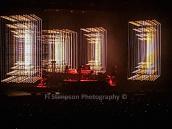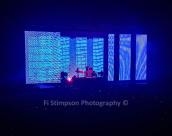 JMJ told us quite early on that he was glad to be starting his tour in the UK – he went on to say that this is his second home, with or without Brexit. He then performed his collaboration with Edward Snowden from 2015, entitled "Exit". I love the haphazard drum beat in this tune, and of course what Snowden says mid-track… "What may not have value to you today may have value to an entire population, an entire people, an entire way of life tomorrow, and if you don't stand up for it I will."
Looking around me, there was a constant joint nodding of heads and dancing in seats going on. Just one guy in row 11 was losing his inhibitions to the music from the start. I like that guy.
It wasn't long, though, before JMJ invited us to get up, dance and enjoy ourselves. He also requested that security relax for once… that was sadly largely ignored. However, there was suddenly a festival atmosphere – people flocked to the floor instead of staying in their seats, and it was an absolute joy to be part of that.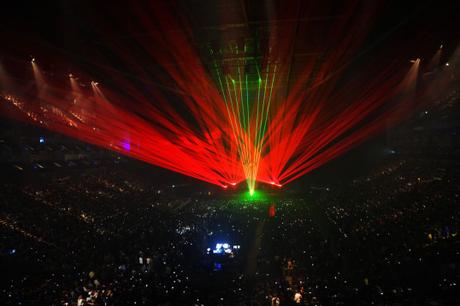 Photo credit: Matt Felici
Even now, it feels like he is ahead of his time, but don't forget that he was doing this 40 years ago and it sounded equally as good then, if not better, as no-one had approached music in quite the same way before.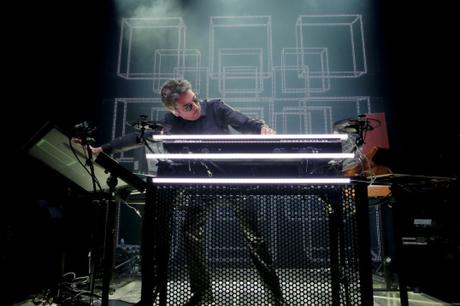 Photo credit: Matt Felici
Jean Michel Jarre's music is nothing short of euphoric. Many people consider electronica tunes to all be the same, but he is no one trick pony – he continues to explore style and genre with flair and passion, and the result is an infectious gathering of unforgettable tunes.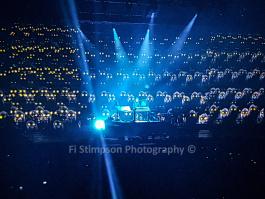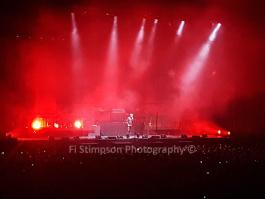 Another recent collaboration was with Pet Shop Boys and is entitled "Brick England", which almost conceals its poetic lyrics under the music. A stunning track, and such a pleasure to hear it live.
Of course, old favourites weren't forgotten, and to the entire crowd's delight, JMJ performed "Oxygѐne" 2, 4 & 8 and "Équinoxe" 4 & 7. He then finished off by treating us to a wonderful surprise – new track "Oxygѐne 17"! This is to be on the upcoming album which will be released in December to mark 40 years since "Oxygѐne" was released.
Jean Michel Jarre finished off the evening with "Stardust", which he produced with Armin van Buuren in 2015. This is a superb collaboration and proves that classic electronica can be melded with the more modern. The perfect end to a dreamy, magical evening.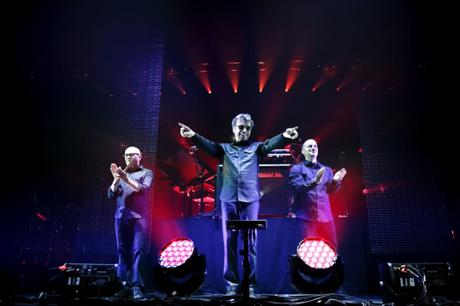 Photo credit: Matt Felici