When talking with my sister at dinner a few weeks ago, the subject turned to reading. As kids, we were voracious readers. When the Scholastic Book Club newsletter came to us in our grade schools, we'd circle all the books we could, great books like Encyclopedia Brown, The Cricket in Times Square, The Phantom Tollbooth were our best friends growing up. She bought a whole set of beloved children's books for our nieces, but sadly when she asked if they'd read the books, they told her that just didn't have the time. Sadly, I've even heard stories that the Book Clubs themselves have devolved into a catalog of toys and junk for kids.
It seems like an epidemic. Kids don't seem to read anymore. We live in a world where more than three paragraphs of text on a Web page are called too much. We're too busy to write complete sentences, so we write things like "LOL", "LMAO", and "BFF". That's just sad. Because a great book can inspire you, can lift you up, and can broaden your world. If you look at the most successful people in the world, most of them can rattle off a list of their favorite books.
I recently got a nice email from Brad, the founder of Gone Reading International, LLC. His is an amazing organzation that fund new libraries and literacy projects around the developing world. It's no coincidence that literacy rate is one of the statistics by which people judge whether a country is successful. There's a cause-and-effect relationship there. It's not that once people get rich, they can afford books. It's quite the opposite. It's when people fill themselves with knowledge and inspiration from authors of the past that they can build upon the things they read and achieve greater things themselves. That's why tyrants as recent as the Nazis in the 1930s or the Communists in China's Cultural Revolution of the 1960s destroyed books. Allowing the masses to have knowledge was just too dangerous to their grip on power.
What organizations like Gone Reading International do is the opposite. By partnering with organizations like READ Global and Ethipoia Reads, they don't just give people in developing areas a handout. They equip them with one of the most powerful gifts of all: the gift of reading. And in doing this they can stop the cycle of despair and hopelessness and help change their world for the better.
GoneReading.Com has a large assortment of high quality gifts that you can send to the avid reader in your life (or to something who has a budding interest in reading which you'd like to encourage). Brad was kind enough to send me some products to review.
My favorite product is this apron that says "Jane Austen for President". I really like this idea–surely the woman who brought together Elizabeth and Mr. Darcy could figure out how to solve the debt crisis and the conflict in the Middle East!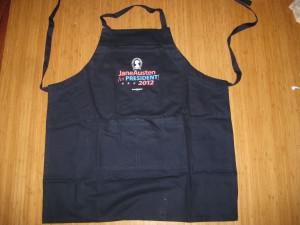 It's funny, but recently on Brad's blog he wrote a series called "A Dude Reads Jane Austen". It's been years since I picked up Pride and Prejudice, but reading his thoughts just made me want to pick it up again.
I also got a chance to look at some of GoneReading.com's mugs: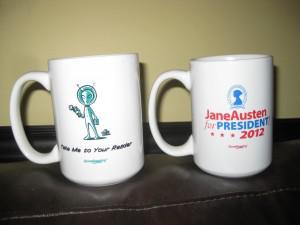 There's a Jane Austen for President mug and a cute mug showing GoneReading.com's logo with an alien pointing a ray gun at you and saying "Take Me To Your Reader". These mugs were actually really, really high quality…very sturdy and taller than your traditional mug.
There's a whole range of gifts for book lovers at GoneReading.com, ranging from T-Shirts to Tote Bags to baby onesies to mugs and aprons. You're sure to find something great for the book lover in your life.
I want to thank Brand for reaching out, and encourage you to support this fantastic organization!