This post contains affiliate links which means I receive a commission if you make a purchase using the links in this post.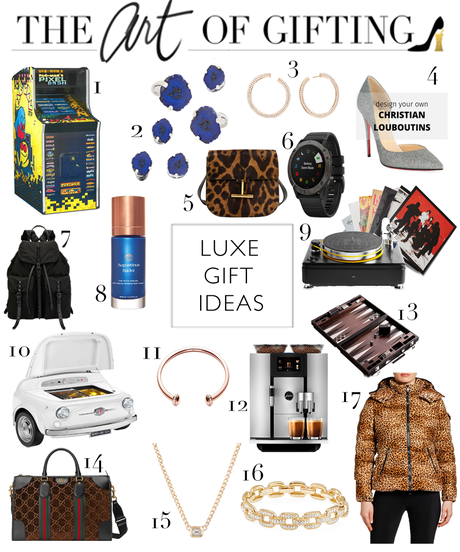 Happy Tuesday GlamFam! Here's another Gift Guide for those who love a little luxury! Here are some fabulous luxe gift ideas if you have a healthy money tree growing in your backyard! J/K! But seriously, some will recieve a luxury piece as a gift and treasure them for years. They don't spend money on themselves, and these are a few gracious gift ideas for those deserving someones.

Turn on your JavaScript to view content
TWO // Men's Russian Azurite Cufflink & Stud Set ($2,195)
Take his suit to the next level with this gorgeous set in a deep blue. (These are now sold out but I found a dark rutilated quartz set!)

For my sale loving friends... Quite a few sites have extended their Cyber Monday sales like ShopBop, Neiman Marcus, The Modist, Target, and Erin Condren (my favorite planner mentioned here and here) in case you missed it yesterday!!
Happy Monday! It's was definitely a "re-entry" back to school yesterday. The morning was okay, but the afternoon and evening were SOMETHING ELSE!!! Last night, my youngest was having a hard time staying asleep and needed Mommy multiple times in the middle of the night. ZZZZZzzzzz. ONE DAY, sleep won't be a luxury! LOL! How was your Monday?
JOIN THE #GLAMFAM // SIGN UP FOR THE NEWSLETTER BY CLICKING HERE.
CHECK OUT MY INSTAGRAM SHOP HERE TO SHOP ALL OF MY INSTAGRAM LOOKS!