This post contains affiliate links which means I receive a commission if you make a purchase using the links in this post.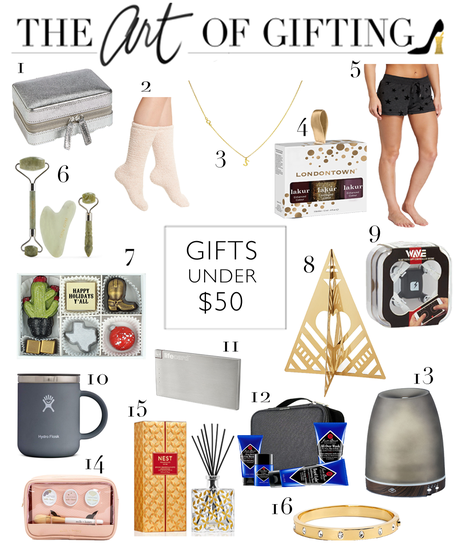 Happy Monday GlamFam! Hope y'all enjoyed a wonderful Thanksgiving if you celebrate and enjoyed the weekend! It's a new week, new month, and time for another Gift Guide! All of the holiday parties have started, and I'm sharing gift ideas for under $50. You don't have to spend a million bucks for some fabulous things, and this list can cover anyone from friend to a neighbor or coworker!

Turn on your JavaScript to view content
FIVE // PJ Salvage Night Sky Star-Print Shorts ($45)
Give her the softest pair of sleep shorts on the planet and she'll be grateful forever. It's so easy to pair with a simple tee. My personal favorites are SOMA PJs, and they currently have a Cyber Monday Special for $29 which is amazing because they are normally $60!
SEVEN // Home for the Holidays Chocolate Gift Set ($32)
When in doubt, give chocolate! This is perfect for a special someone who misses home or any chocolate lover! I've given this lipstick case set as a gift to my girlfriends, and they loved it!

Happy Monday! Last week while the children were off, we got pictures hung in both Littles rooms, a crib converted to a toddler bed, and the Christmas decorations done before guests arrived on Thanksgiving! It was a miracle! LOL! School is back in session this week, and I am honestly a bit relieved! Love my sweet kids and we had the best time, but I've got to get some other work done!
Also, Happy Advent Season! Advent and Lenten Season are my favorite time to renew my relationship with God, and I love following along with Dynamic Catholic's Best Advent Ever. A video and lesson are emailed every morning during the season. It's how I start the day while drinking coffee in addition to my normal morning routine. How do you start the day?
JOIN THE #GLAMFAM // SIGN UP FOR THE NEWSLETTER BY CLICKING HERE.
CHECK OUT MY INSTAGRAM SHOP HERE TO SHOP ALL OF MY INSTAGRAM LOOKS!