This post contains affiliate links which means I receive a commission if you make a purchase using the links in this post.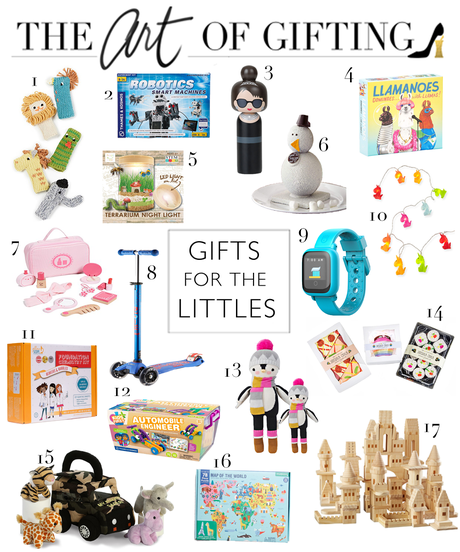 Happy Friday GlamFam!! We made it!!! Every Sunday, I start looking forward to Friday! LOL! Okay, here is the last gift guide of the season - ideas for kids or Littles. I always have so much fun shopping for the children. They have such amazing little brains with so much creativity. I know we live in a digital world, but many of the gifts I'm drawn to are simple to foster that innate creativity. I did include some "high tech" toys because we are in this modern age!

Turn on your JavaScript to view content
THIRTEEN // Aspen the Penguin Cuddle + Kind Doll ($52-$72)
These adorable dolls are not only cute, but they also provide 10 meals to children in need for each doll sold. Buy one for your kids, one for your friend's kids-and do some serious good. My kids LOVE their Cuddle + Kind dolls. (See the photo below.)

Happy Friday Y'all! I'm so happy it's the weekend!! We are double booked on Saturday with a birthday party and Polar Express Movie/PJ party and have exciting plans for a special InCircle Event at the Dallas Cowboys game on Sunday! WHEW! I've been gearing up for the New Year, new DECADE, by trying to review the past decade. Wow! So much has happened in 10 years.
On another note, I still have to order Christmas cards! They will obviously morph into New Years cards! LOL!
What's going on for you this weekend?
♥︎ ♥︎ STAY GLAM, DO GOOD ♥︎ ♥︎
Thank you so much for stopping by and supporting SOS!
JOIN THE #GLAMFAM // SIGN UP FOR THE NEWSLETTER BY CLICKING HERE.
CHECK OUT MY INSTAGRAM SHOP HERE TO SHOP ALL OF MY INSTAGRAM LOOKS!