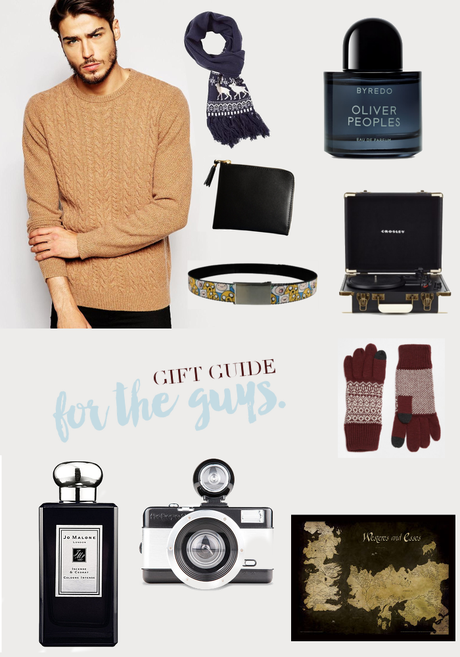 The third Christmas gift guide installmentof 2015, one to kit out the guys.
It's time to turn attention to the men with today's gift guide installment. I either really struggle with gifts for the guys or I have too many gift ideas and my Dad and brother get lucky with ALL THE GIFTS.
Perpetually single problems.
(Honestly, I'm always single at Christmas!) This year I feel confident that I'm going to nail the gift-giving, Dads, brothers, male best friends, cousins and everything in between, included.
Let's start with the obvious -- cosies. My Dad always appreciates a good jumper or hoodie as he rarely leaves the heated kitchen (Papa Daisy is a head chef at our restaurant!), but really feels the British chill when he does. Dad's the kinda guy that forces us all to wear twelve layers whenever we leave the house! For the tech-savvy guy, I'm a big advocate of touchscreen gloves. I swear by mine when the temperatures dip and they're something that not everybody thinks of picking up! I like the ones from Muji but these plain cable knit gloves from Urban Outfitters are super cute too! As someone that likes to take winter walks with guy friends and the like, scarves are somewhat of a staple too. They're a nice way to bump up a gift (I often gift one paired with a cologne!) so you're handing something a little more substantial over to them.
It's a terrible stereotype but if the guy you're gifting for is a tech aficionado, one of these is bound to please. Living in Hong Kong means I see all manner of shiny new technology and some of these may or may not be wrapped and hanging out in my suitcase! I really like this phone case, the burst of colour and wooden detail is so subtle and chic. For the avid gamer, this PS4 decal is a good way to make your other half's gaming essential a little easier to match in your home. And finally, this Crosley record player is a beautiful piece for the music aficionado.
Whether for boyfriends, brothers or Dads, a well-selected cologne is always a good idea. I think fragrances make a great gift because scents linger in your memories. Whenever I smell Chanel's Chance, I think of my Mama and whenever I smell this Diesel number, I think of my brother! Having worked in luxury cosmetics for over a year, it comes as no surprise that I'm itching to pick up the Oliver Peoples for BYREDO EDP for a guy. It smells oh so nostalgic for me and is the perfect balance of woody and leather notes.
Finally, a smorgasbord of odds and ends that could be standalone gifts for brothers or cousins, or perfect as a stocking filler. I'm obsessed with these square Commes des Garcons wallets! I'm sorely tempted to pick one up for myself despite the fact I certainly don't need one. My best guy friend is Adventure Time obsessed so this belt is a cute, nerdy way to finish his semi-formal work looks!