Gulliver the Giant Guide Dog is on Tour from Sydney to Broken Hill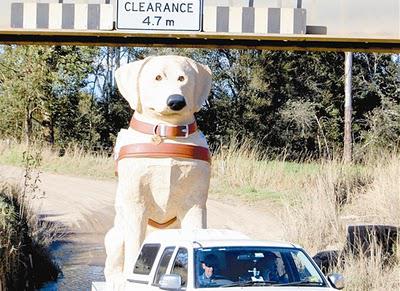 A guide dog 4.3m high is doing a tour across NSW to educate towns and communities about the role Guide Dogs NSW/ACT plays in helping people with crook eyesight in regional areas. He is spreading the message that there is help available in the bush and the outback.
When Gulliver gets to Broken Hill on the 29th of September he will have completed an epic 10,000 km tour across most of Eastern Australia. More than a third of people with visual impairment live in regional and rural areas. After completing his visit in the Silver City the giant guide dog is off to South Australia to continue spreading the message to outback people.
Western NSW regional manager Ben Schwarz says:
"Like Gulliver on his travels, our instructors travel to wherever our free services are required. Guide Dogs come to you - your home or workplace, be that in town or an outback station. Teaching you how to find your way around your particular environment is our top priority."
You don't have to be completely blind to get some help. Part of the purpose of the big tour is letting regional people know they should seek help early to avoid related problems like fall injuries and depression.
"Our free mobility services can help to reduce these problems and improve your independence and quality of life," said Mr Schwarz.
"Our instructors are local people who understand the challenges facing those in regional and rural areas," said Mr Schwarz. "Our services are tailored to meet your needs, so if your problem is night vision, we will work with you at night."
For more information about Guide Dog services contact them in Orange on 02 6362 6625, or visit www.guidedogs.com.au, Facebook, or Twitter.