Photo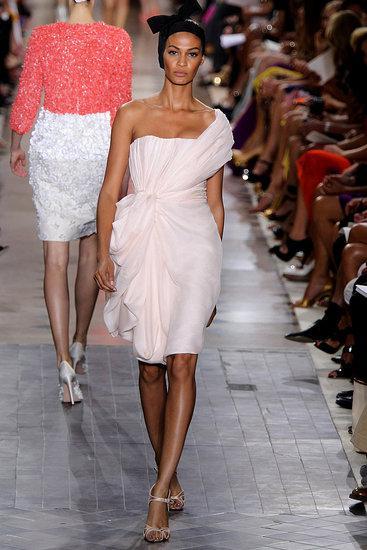 GIAMBATISTA VALLI HAUTE COUTURE 2011 
While i LOVE the Haute Couture, and I support newcomers in the fashion scene, I am yet to understand this years collection. Everything seems muddled, there is a lack of order in the designers collections which i find disturbing. from Origonal member Dior to Gaultier to newbie Giambatista Valli it seems that the theme is to have no set theme. Colour pallets were varried and silhouettes and fabrics didnt hold a story (well tutu silhouettes at Gaultier were inspired by Black Swan).
But as a new found couture tallent, i will watch the design house carefully and see how they go. The Collecion was infact wearable and desirable, but lacked that something special, that origonality and personality that is usually found at couture week. Wilth a colour pallet of red, black white and pastel pink, mixed with floral & Animal print, I would say that the designer still hasnt found there way yet, although they did a beautiful job with texture.
My fave piece from the collection? this Pink dress. While I also liked the Black and white floral prints, the cuts of the dresses just weren't me.
xoxo LLM